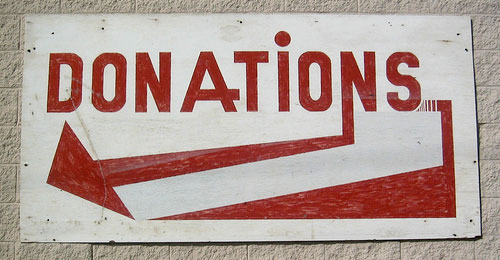 Maaaaaan, can you believe it's already the end of 2011??  What a freakin fast year!  And of course, we can't close it out without us personal finance bloggers having some last words on tax deductions ya know ;)  It's part of our jobs! So if you've been putting off all those clothes/money donations this whole year, it's time to pay attention.  You've got 2 whole days left to make your deposits (and get those tax receipts!) before the new year starts all over again.
So today's mission/5 For Friday is centered around just that:  Ways to get last minute tax savings before it's too late.  Review the questions below and then answer 'em honestly yourself:
Have you donated anything this year?
What kinda stuff? (How much worth, in total?)
DID YOU REMEMBER TO KEEP YOUR RECEIPTS?
On a scale from 1-10, how impressed with yourself (or not) are you? (10 = incredible)
Do you have the energy to clean your entire house right now and do some last-minute donations?
*BONUS* What's a last-minute tip YOU have for getting some tax breaks this year?
I know these are kinda boring, but the point I'm trying to make is that we still have time to go and save some money while helping others at the same time!  It's totally win-win, and it's not too late for us slackers out there! (Naturally I'm including myself in there too, haha… big surprise!)
Here are my 5 answers to thes questions above – then it's your turn:
DONATIONS:  Yup!  And in fact, I gave a lot more than I originally thought too!  Thank GOODNESS I keep all receipts and everything in one main folder so I can easily go back and check whenever needed – I always forget!  Like right now when answering these ;)
STUFF:  It looks like I gave out boxes full of clothes and household items earlier in this year, as well as a handful of $25 donations around town when friends were running their races/etc on behalf of their fave. charities.  About $550 worth of "stuff," and $200 worth of cash donations.  Not to mention handfuls and handfuls of dollars handed out at daily church services that I always forget to change to auto-withdrawal so I can get tax benefits from it too!  (You don't get receipts when giving out during church, but you can if you sign up differently to give them money – and it "doesn't count" in the tax world unless you have those receipts!)
RECEIPTS:  Haha, of course! Who do you take me for?? :)
IMPRESSED:  I'm going with an 8.  Plenty of room to grow, but did lots of good w/ Love Drop this year which was a HUGE difference from all years up to that point. Besides putting in 20-40 hours a week there, I think I gave over $1,500 from my own money too… it wasn't tax deductible (we were never an official charity) but it sure beats anything else I've ever done in years past :) And hopefully I can continue giving back in future ventures too…
LAST MINUTE DONATIONS:  Yes! I really REALLY want to try knocking it out tomorrow morning before all the drinking fun begins.  I haven't gone through any of my stuff in at *least* 8 months, and I'm sure I have a ton I can give away that I no longer use (or like) anymore, I just  need to DO IT. My plan is to search throughout the entire house for 2 hours straight, and then bag it all up and drop it off at our Salvation Army before the clock hits noon.  It'll be an annoying 2.5 hours for sure, but the benefits to everyone will be great :)  We'll see if I can do it!
*BONUS* Hmmm… besides donations?  I'd have to go with maxing out your ROTH or Traditional IRA for the 2011 year (I'd say max your 401(k) too, but it's way too late for that).  For IRAs, you don't actually have to make deposits by 2011 as you have a few early months of 2012 to do it too (I think until April?), but I find knocking it out before you forget/aren't able to anymore is always best.  And you have a decent amount you can put towards it for 2011 as well – $5,000 in total!  Your future self would be very very happy later, I promise you ;)
Your turn!  How have you been maximizing out your tax deductions this year?  Are you doing anything besides donations or IRA investments?  Help your fellow friends out! Tell us all your awesome secrets below ;)
See ya back in the new year! BE SAFE!
————-
(Photo by Eric__I_E)
Featured savings tip
You already know that banks pay $$$ for the privilege of holding your money…it's called interest. But maybe you didn't know this: that so-called interest can be as little as .01%. If your cash savings aren't sitting in a high interest savings account that earns you at least 1%, you're basically saying "no" to free $$$!
Now, obviously the 1% interest you get with a high interest savings account like the one at Discover bank won't make you rich, but that extra 1% compounded over 30 years can grow into a *big* pile of cash. And if you wanna hit lofty $$$ goals, you should be looking for every edge possible.
Here's another way to look at it: if you leave $50,000 in a regular savings account, that's almost $500 you're just throwing away, each and every year you don't setup a high yield savings account! Will you do 5-10 minutes of work right now to earn an extra $500/year for years to come?
If you said "heck yes", then you can setup your high interest savings account here to start earning 1% on your cash savings.