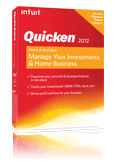 I just got an email from the fine folks of Intuit's Canadian division, and thought I'd sneak this in while it's giveaway week here at BudgetsAreSexy :) If you've been looking for some good family budget software, or always wanted to try out Quicken Home & Business, now's your chance to win a FREE copy!
Here's what their site says about Quicken Home & Business 2012:
See where your money goes, monitor your investments and manage your home-based business finances with Quicken Home & Business. This home business software has all the tools of Quicken Cash Manager – plus:
Helps you choose the TFSA account type when setting up an investment account
Lets you review and work with transactions from your spending, asset and liability accounts with the All Transactions register
A projected account balances graph that shows you how much money you have left after upcoming bills and income
NEW! Create a customized plan to reduce debt with new user-friendly interactive tools that make it easy to stick to your plan
If you want a chance to win this (a $109.99 value), tell us how you'll use this, or who you'll give it to, and you'll be entered! We'll announce the winner w/ all the others on Sunday night, and we'll use Random.org to pick it.  Hurry up and get your answers in by Saturday (Dec 17th) at midnight, and you'll be entered to win.  Yay financial management!
************
Bonus tip: Find a good "balance transfer" offer to help pay off debt faster!
If you've been making payment after payment (on time) and still haven't been able to get your debt under control, snatching up a good balance transfer credit card offer may be the ticket to try. That's where in order to gain your business - credit card companies will let you transfer your existing debt to a new card and let you pay ZERO PERCENT interest on it. Saving you tons every month!
What's the catch? Usually balance transfer cards charge a fee (around 3% of your debt balance) to let you transfer your balance to their 0% interest offer. But we've found a great credit card that will let you do a balance transfer absolutely free. Click here to learn more and see if you qualify!
PS: If you don't trust yourself with another credit card, ignore this! This strategy is to help you get out of debt quicker, not risk adding more to it.