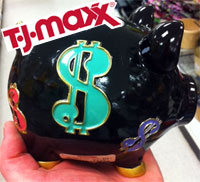 Haha… Gotta love some TJ Maxx action!  Or even Marshalls for that matter – you could use the card at either place :)
And just to make sure the cards worked, I used one for myself and picked up 4 presents already.  All for under $25, crazy!  That piggy bank up there was one of them ($4.99 – which I kept myself ;) 1 for me, 3 for them, right?). Two "fake books" which you can hide treasures in ($12.99 total – remember those from the movies?), and a graphic tee for my bro ($7.99 – down from $29.99). 4 things for all under $25, gotta love it :)
Want a chance of getting your own card?  Answer this below and you just might win!
How many items do you think YOU could get for $25? Who would you shop for?
Answer away in the comments and you'll be entered to win! We'll announce the winner, along with all the others from the week, on Sunday so make sure you're entered by midnight on Saturday (Dec 17th). Then I'll drop it in the mail so you have enough time to shop for Xmas! GOOD LUCK! And all hail TJ Maxx! Not only are their items 60% less than department stores and malls, but they literally get in 10,000 new items EVERY week! Pretty dope. Now go and enter before I blabber your ear off :)
************
Bonus tip: Find a good "balance transfer" offer to help pay off debt faster!
If you've been making payment after payment (on time) and still haven't been able to get your debt under control, snatching up a good balance transfer credit card offer may be the ticket to try. That's where in order to gain your business - credit card companies will let you transfer your existing debt to a new card and let you pay ZERO PERCENT interest on it. Saving you tons every month!
What's the catch? Usually balance transfer cards charge a fee (around 3% of your debt balance) to let you transfer your balance to their 0% interest offer. But we've found a great credit card that will let you do a balance transfer absolutely free. Click here to learn more and see if you qualify!
PS: If you don't trust yourself with another credit card, ignore this! This strategy is to help you get out of debt quicker, not risk adding more to it.