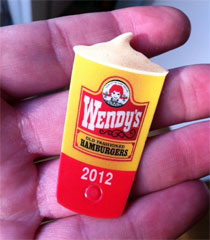 This will be a quick post just to tell you I came across the BEST DEAL EVER this weekend:  Free Jr. Frosties from Wendy's every time I buy something in 2012! How crazy is that? (And what a way to start the new year?).
It's true through. And it only cost me $1.00 to get it!
When I pulled through Wendy's drive through on Friday, the manager there (I assume he was the manager cuz he was super courteous, and super old), asked me if I wanted a free Frosty, and of course I told him yes! ("YES! I Loooooove your frosties!!" I actually said back.)
And so he made it happen! And then once I got it in my car – and was officially hooked – he asked me if I'd like to have one *every single time* I visited this year.  "WHAT?  Are you joking??  Am I being punked?" I cautiously muttered screeched with joy. "Nope.  If you donate $1.00 to our blah blah blah (I honestly blacked out at this point cuz I was still so much in shock), you'll get one every time you show us this key tag."  And he held up that very same one you see there in that picture up above.
"Here's your dollar!  Happy to help!!"  And that was that.  I officially became a Free Frosty member for all of 2012, and I am still in disbelief that something so beautiful can exist in this world.  So much so that I went back again yesterday to get another one, only I forgot to bring the tag and ended up frosty-less.  Oops.
I don't know if this is a national thing, or a J. Money thing (maybe he was mesmerized by my sweet money skills?), but either way I am one happy mother budgeter this year.  And we're only day #2!  If I were you, I'd swing by that heavenly place yourself and see what you can finagle out of them… at the very least, maybe you can give them the idea to do it at their place too?
************
Bonus tip: Find a good "balance transfer" offer to help pay off debt faster!
If you've been making payment after payment (on time) and still haven't been able to get your debt under control, snatching up a good balance transfer credit card offer may be the ticket to try. That's where in order to gain your business - credit card companies will let you transfer your existing debt to a new card and let you pay ZERO PERCENT interest on it. Saving you tons every month!
What's the catch? Usually balance transfer cards charge a fee (around 3% of your debt balance) to let you transfer your balance to their 0% interest offer. But we've found a great credit card that will let you do a balance transfer absolutely free. Click here to learn more and see if you qualify!
PS: If you don't trust yourself with another credit card, ignore this! This strategy is to help you get out of debt quicker, not risk adding more to it.