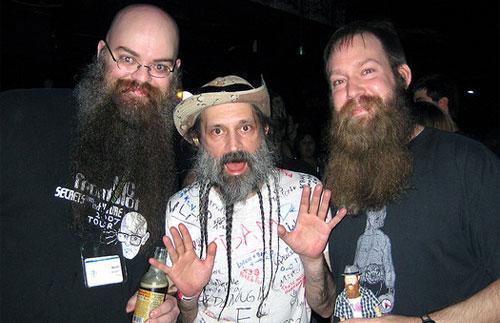 Two weeks ago I decided that I was gonna start growing a beard for the first time in my life.  At first it was just cuz I was being lazy and enjoying the newly found freedom of having less projects on my plate, but after a few days of missing my "shave time," I decided to just go for the gold.  I have no idea how long it'll last, or how LONG I can even grow out the crazy thing, but I've always wanted to see what would happen so we're giving it a shot :)  And who knows, maybe I'll end up looking like Santa Claus! (Only hopefully not that white)
But the reason for me telling you all this, besides the fact I just wanted to share my new mission with you!, is that it reminded me a lot of growing our money.  Kinda like my mohawk post on the economy, here are a few ways producing a beard is like saving money.  Would you agree?
Both are easy to start, but hard to continue.  Every day for 15+ years my beard "started" – only I shaved it back off every 4 or 5 days.  And almost every day during that same time I put away a couple dollars here, or a couple dollars there.  That was totally easy.  But continuing with it?  Reminding yourself every day to KEEP GOING cuz the end game is much bigger than all the days before it?  Super hard.  It's sinking in more as time goes on *now*, of course, but it took a lot of hard work and patience.
Both take patience.  Money doesn't grow to a million dollars on day 1 – it takes thousands of days.  Same with this crazy mat of hair on my face.  It's only been about 4 weeks, but it's JUST now starting to resemble something other than a 5 o'clock shadow on there.  And I'm sure it'll be doubly long in another 4 weeks!  But I gotta keep on being patient and working towards it for it to continue to grow.  Same with your money, or cutting out debt, etc. It all happens over time.
Both take hard work!  Okay, well, maybe not the beard – that's one thing in life that just "happens" without an ounce of work, but certainly w/ the money ;)  You have to consciously remind yourself to stay on top of it all or it'll get trampled over like it always has in the past.  Working on it one week is great, but if you don't push more and more and pay attention *every* week, odds are it won't grow as fast as you had hoped.  It doesn't mean you have to go all 24/7 or anything, but you do have to be more aware than in your non-caring days. And sometimes that means going without some *wants* here and there.  It never kills us to skip over some stuff every now and then.
And lastly, both itch :)  My face, more literally, and my desire to save, more figuratively.  But with either you have to WANT IT BAD to make it happen.  There are pros and cons to each (The beard drives me crazy (it's SO ITCHY!!) and makes me look like a vagabond, and the savings means I have to go without in other areas), but the end goal is more important to me in the long run.  At least for now – that beard might have to go if the Mrs. gets tired of being scratched all the time ;)
So the moral of the story is that if you want to become a millionaire one day, you have to start growing a beard.  Haha… or just work your ass off and remain true to your goal ;) I'd normally interject a question here relating to money, but instead I'd like to ask you your opinions on facial hair.
Happy Friday!
Guys:  What's the longest you've ever grown your beard? Did you enjoy it in the end?
Gals:  What do you think about facial hair on men? Do you like it?  What do you prefer the most? (goatees, mustaches, beards, etc?) I know y'all love some Brad Pitt and Ryan Gosling, both of whom rock some mighty fine stubble every now and then.
———-
(Crazy beards by Ayleen Gaspar)
Featured savings tip
You already know that banks pay $$$ for the privilege of holding your money…it's called interest. But maybe you didn't know this: that so-called interest can be as little as .01%. If your cash savings aren't sitting in a high interest savings account that earns you at least 1%, you're basically saying "no" to free $$$!
Now, obviously the 1% interest you get with a high interest savings account like the one at Discover bank won't make you rich, but that extra 1% compounded over 30 years can grow into a *big* pile of cash. And if you wanna hit lofty $$$ goals, you should be looking for every edge possible.
Here's another way to look at it: if you leave $50,000 in a regular savings account, that's almost $500 you're just throwing away, each and every year you don't setup a high yield savings account! Will you do 5-10 minutes of work right now to earn an extra $500/year for years to come?
If you said "heck yes", then you can setup your high interest savings account here to start earning 1% on your cash savings.