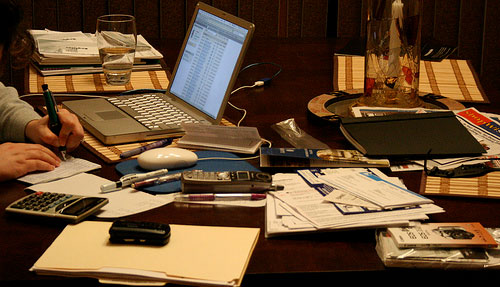 And I haven't even filed them yet! ;) I literally spent all weekend tracking down all my invoices and receipts and bank statements, etc etc etc. It was a mess. And after 8 hours I decided that it'll never happen again, so I spent another 2-3 hours organizing and coming up with a better solution going forward in 2012 (though I am proud I got started on all this so early this year!).
It's not the most innovative system in the world, but here it is:
Print off all invoices and online receipts AS SOON AS I GET THEM before archiving in Gmail.
Plop them all in a folder in my desk, and move on. (I got one of those old school writing desks which have these huge deep drawers, so I put in a ghetto filing system so all I have to do is reach over to the printer to grab the receipt, and then just plop it right into my drawer!)
Put all other receipts from shopping in-store in the same folder. (One thing I am good at is keeping all receipts in my right front jean's pocket, so every night before bed I can just take them out and put them in the right place.  Going strong now for 4 years and it hasn't failed me once!)
At the end of every month, record them all, and place them in my "2012 binder."  Which will hold everything I ever need come tax-time.  And just in general – in case any joker companies try f'ing me over again. I'm literally going to 3-hole punch all invoices, and tape all receipts to a blank piece of paper so it's all SUPER easily accessed when needed.  It's a bit 3rd grade, but when I tried this before it worked well. Just matter of sticking to it :)
I'm pretty confident this will work.  And honestly, the last two months I've been doing something similar which was working out swimmingly – it was just the previous 8-10 months where I started slacking big time out there.  Pretty bad for a finance guy, huh?  I guess I care about my PERSONAL finances more than I do taxes and/or my companies ;)
Speaking of which, that was another reason it took me so long – I'm dealing with THREE entities here:
The wife and I's personal stuff
My blogging company
Love Drop company
And I still have more to do ;)  #1 and #2 can pretty much be checked off for now while we await all the paperwork companies and employers will be sending us and what not, but I still have a ways to go w/ Love Drop.  The one thing keeping me sane though is that I was ANAL about keeping EVERY SINGLE RECEIPT all year long. To the point Nate (the co-founder) would make fun of me every other day about it.  So we're all good in this department, I just gotta put it all in one spot and make it nice and pretty for our accountant ;)
YES, I AM SPENDING THE MONEY AND HIRING OUR ACCOUNTANT AGAIN! I will never try and do all of this company stuff myself, I suck hardcore at details.  And they save me money *every year* by asking me good questions, and advising me every single month when I call them up with a stupid question (probably the best thing about having an accountant!  It's in everyone's best interest to be on the same page as it saves everyone time and money!).  Last year it cost us about $500 I believe to file for all 3 of those entities listed above.  I imagine it'll be around the same this time, maybe a little more since new things keep popping up all the time.  But either way, it's one of my favorite things to spend money on.  Can you imagine how long it would take me to file it all, *correctly*, if I can barely keep all my paperwork together? Haha… no way.
So the moral of the story today is don't be like J. Money :)  While he's smart in some areas, and always means well, he can definitely get scatterbrained and cause more unnecessary work for himself. If you don't have a good record keeping system down right now, get on it as soon as you finish reading this!  Make 2012 the best year ever for accounting, and never stress out during tax season again.
What kinda systems work well for you guys? Anyone rockin' it, or y'all in the same boat as I am? (I hope not! :))
——————–
PS:  I will add that I've been AWESOME at paying my quarterly taxes every 3 months though, to the tune of over $25,000 so far. So at least I won't have any huge financial surprises come filing time – I just gotta reach that point before I go loony!
(Messy desk photo by WagsomeDog – not mine, but it sure looked like that)
Featured savings tip
You already know that banks pay $$$ for the privilege of holding your money…it's called interest. But maybe you didn't know this: that so-called interest can be as little as .01%. If your cash savings aren't sitting in a high interest savings account that earns you at least 1%, you're basically saying "no" to free $$$!
Now, obviously the 1% interest you get with a high interest savings account like the one at Discover bank won't make you rich, but that extra 1% compounded over 30 years can grow into a *big* pile of cash. And if you wanna hit lofty $$$ goals, you should be looking for every edge possible.
Here's another way to look at it: if you leave $50,000 in a regular savings account, that's almost $500 you're just throwing away, each and every year you don't setup a high yield savings account! Will you do 5-10 minutes of work right now to earn an extra $500/year for years to come?
If you said "heck yes", then you can setup your high interest savings account here to start earning 1% on your cash savings.