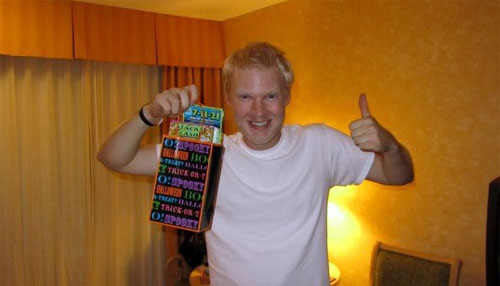 (Guest post by Tino, a fellow blogger who's also intrigued by the lottery)

I think it's fair to say that most people have heard the theory that the lottery is a tax on the poor. Some would even go so far to say that it is a tax on the "stupid." What does this really mean, though? And, is it true?
Who wants to win the lottery?
I can answer that question, but let's take a step back first. First, let's consider who wants to win the lottery. I mean, everybody would like to win the lottery, including J. Money so that he could buy his Mercedes c300 dream car. But who wants to win it the most? To answer that, let's look at a fictional person, I'll call him Billie Bob. Billie Bob lives in a run-down part of Any City America. He is a high school drop out. He lives in a government-subsidized apartment. He gets food stamps to feed his hunger. He doesn't have a permanent job, but takes whatever work he can get, usually at minimum wage. All of his friends, family, and neighbours are pretty much in the same boat too.
Billie Bob is living in the bottom-rungs of society. He will never be able to climb the social ladder and live like the upper class do – Not on his own accord. And, he knows it. But he also knows that he has a chance to do it by playing the lottery. He needs just one big win and he will instantly be upper class. In fact, he talks about this dream every day to his family, friends, and neighbors – you know, the people that are in the same boat as him. They have the same dream too, reinforcing Billie Bob's belief that the dream is possible. Further reinforcing belief are the countless stories about lottery winners he sees on the news. So Billie Bob spends as much money as he could on lottery tickets, more than he could afford, waiting and hoping for the big day that he will win.
Is Billie Bob Stupid?
Billie Bob is poor. He spends money on lottery tickets. You'd probably say that that also makes him stupid. Thus, you might also say that the lottery is a tax on the poor. Winning the lottery is, in their belief, their only way to financial freedom because they don't have the resources to get that financial freedom any other way. A study conducted in Chicago gives credence to the theory that poor people spend a disproportionate amount of their income on lotteries. Yes, even though he is fictional, Billie Bob's story rings true with countless people across America.
The lottery is a form of voluntary tax
The lottery, then, could be considered a form of voluntary tax, a financial charge against a taxpayer that goes to the state (Most lottery proceeds go back into the community). That is, money going to the state without much of a personal return on it, and a disgustingly low probability of winning a jackpot. So, with poor people playing the lottery disproportionately more, some would consider the lottery to be a tax on the poor.
Is J. Money stupid?
So, yes, the lottery could be considered a tax on the poor or, even, a tax on the stupid. However, that does not mean that only poor and stupid people play the lottery. J. Money, for instance, plays the lottery and he's a smart guy. Many other smart people have played and won. Dr William Steele is a dermatologist; he's well educated, successful, and smart – And, he won a $189 million Powerball jackpot in 2009. Jim Sensenbrenner is a politician with a net worth of $11 million. He plays the lottery, but unlike Billie Bob, he doesn't play it to try to achieve financial independence – he already has that. Yet he won the lottery multiple times, his biggest being a $250,000 win.
Dr. William Steele and Jim Sensenbrenner are neither poor nor stupid (neither is J. Money, I think). So, why then would we say that the lottery is a tax on the poor and stupid? It's all relative. Neither Dr. Steele nor Jim Sensenbrenner spent more than they could afford on tickets.
If you, yourself, spend more than you could afford on an impossible dream, that would not make financial sense. However, buying a few tickets here and there won't hurt you and that would allow you to dream – What if you win? What would you do? Dreaming like that is healthy, but spending more than you could afford is not.
How many of you play the lottery? What would you do if you won? ;)
————
Guest post by Tino, who runs a lottery blog, showcasing big winners from around the world.
EDITOR'S NOTE:  Remember how I did that lottery experiment a cple years back? Buying 100 scratch-offs to see what would happen?  Well, Tino took it a step further and bought 1,000 tickets in his most recent experiment!! Haha… do you think he did better than I did? ;)
(Photo by b r e n t)
Featured savings tip
You already know that banks pay $$$ for the privilege of holding your money…it's called interest. But maybe you didn't know this: that so-called interest can be as little as .01%. If your cash savings aren't sitting in a high interest savings account that earns you at least 1%, you're basically saying "no" to free $$$!
Now, obviously the 1% interest you get with a high interest savings account like the one at Discover bank won't make you rich, but that extra 1% compounded over 30 years can grow into a *big* pile of cash. And if you wanna hit lofty $$$ goals, you should be looking for every edge possible.
Here's another way to look at it: if you leave $50,000 in a regular savings account, that's almost $500 you're just throwing away, each and every year you don't setup a high yield savings account! Will you do 5-10 minutes of work right now to earn an extra $500/year for years to come?
If you said "heck yes", then you can setup your high interest savings account here to start earning 1% on your cash savings.