Hey guys!  I thought I better give out some of these free TurboTax codes this week before y'all file already!  I know some of you are pretty fast with this tax stuff – much better than myself who gets stuck on the last 20% of the details ;)  (Remember when I started getting all my tax stuff together almost a month ago?  Well, I pretty much stopped at 80% completion…. the last 20% is always the hardest!  I don't  know if it's my A.D.D. or boredom or what, but I am *not* good w/ the final details of projects… which is pretty bad for a finance guy, haha…)
But anyways, yes – today, we give out free TurboTax cards! For both US and Canadian residents! (Though 3 for US, and only 1 for Canada – sorry!) They hosted a nice little happy hour here in the DC area the other night (thanks for the free beer!!), and were kind enough to send us home w/ a bag of goodies too.  So now you all get to win too! And even if you're not lucky this week, you should totally check out their new apps they've recently come up with – you can now file your taxes on your cell phone!!  Or iPad!  Pretty crazy stuff… and I still don't know how I feel about that, haha… why not just use the computer? ;) If you're up for it though, here are the links for more info: File your taxes on your cell phone or File your taxes on your iPad.
Now Time For The Giveaway!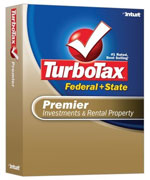 Up for grabs are FOUR Free TurboTax Premier cards – a value of  $49.95 each. TurboTax Premier includes everything in Deluxe, plus additional features to help you get the most from your investments and rental properties:
— Import Your Investment Info. Save time by automatically importing participating investment info directly from your financial institution.
— Get Help Accurately Reporting Investment Sales. You'll be walked through reporting sales of stocks, bonds and mutual funds. TurboTax will automatically calculate capital gains/losses and keeps track of those that carry over to future tax returns.
— Your Cost Basis in Three Easy Steps. Find your accurate purchase price for stock sales, in three easy steps.
— Get Help with Employee Stock Plans. Get guidance in reporting sales. TurboTax automatically determines your correct basis for selling shares purchased at different times or different prices.
— Maximize Your IRA Savings. TurboTax will show you exactly how much you can save on this year's taxes by opening or contributing to an IRA.
— See Your Best Rental Depreciation Method. Simplify reporting rental property depreciation. You'll be shown which depreciation method will get you the biggest tax deduction.
— Maximize Refinancing Deductions. You'll be guided through deducting points, appraisal fees, recording costs, and more so you don't miss a single chance to save.
— Get Help with New Rental Properties.Get step by step guidance in how to set up new rental properties.
How to Enter to Win One:
Answer this question below in the comments, and you'll be entered to win any of these three cards. If you're CANADIAN, leave a note in your answer so we can make sure your entries are separate from the rest (and you'll have better odds of winning too ;)):
What are you gonna do with the money you get back?  (If you think you'll owe instead, how will you get the money to pay it off?)
Throw your answers below, and we'll pick the three winners over the weekend :)  Make sure to get 'em in by Saturday, the 18th, and we'll use Random.org to pick the results so it's nice and fair.  Good luck!!  And I hope you end up getting a ton back! (Even though I know it means you were giving the Gov't a "loan" all year long, but it's still exciting!). Big thanks again to TurboTax too.
—————
PS: I still haven't tried them myself, but I might give it a shot this year and then compare it with what my accountant comes up with ;)  Would be a good test, no?
PPS: Don't forget, if you want the Canada tax software, be sure to mention CANADA in your entry!
***The giveaway is now over! Here are the lucky winners! :)
Free TurboTax Premier #1: Allison
Free TurboTax Premier #2: Darrell
Free TurboTax Premier #3: Matt (#39)
Free TurboTax Premier (CANADA): Simon
You'll get an email from me soon! :) Thanks for participating everybody!
Featured savings tip
You already know that banks pay $$$ for the privilege of holding your money…it's called interest. But maybe you didn't know this: that so-called interest can be as little as .01%. If your cash savings aren't sitting in a high interest savings account that earns you at least 1%, you're basically saying "no" to free $$$!
Now, obviously the 1% interest you get with a high interest savings account like the one at Discover bank won't make you rich, but that extra 1% compounded over 30 years can grow into a *big* pile of cash. And if you wanna hit lofty $$$ goals, you should be looking for every edge possible.
Here's another way to look at it: if you leave $50,000 in a regular savings account, that's almost $500 you're just throwing away, each and every year you don't setup a high yield savings account! Will you do 5-10 minutes of work right now to earn an extra $500/year for years to come?
If you said "heck yes", then you can setup your high interest savings account here to start earning 1% on your cash savings.