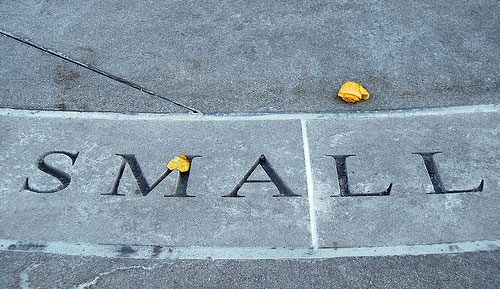 (Guest Post by "Babs" Wagner)
By now, we're well enough into 2012 that everyone who made a New Year's resolution has sorted themselves into one of two groups.  The first is the miniscule group of folks who kept their resolutions (God bless all three of you overachievers!).  The second group is the extremely large number of folks who blew their resolutions and now live with one more blot on the family escutcheon.  I hate when that happens, and I have the many blots to prove it.
I don't make New Year's resolutions anymore.  I have discovered the only resolution I'll ever make, and I make it every single day.  Before I tell you this secret to success and happiness in every aspect of life (pay no mind to today's post title), let me tell you what got me to this point.
By the ripe old age of 29, I had already declared bankruptcy, been fired from my first grown-up job, and had my wages garnished for failure to pay my guaranteed college loans on time.  Since I lost my credit cards in the bankruptcy, and wasn't familiar with the concept of living within my means, I had gotten into a nasty habit of getting myself "payday loans" by cashing bad checks just about every month.  I was broke, jobless and living on unemployment when it finally dawned on me that I needed to get my financial life in order.  I had so many problems, it was overwhelming getting started.
So I did the only thing I could do:  I lived within my means.
I got a job and each payday I would pay my bills, grocery shop, and cash a check for what was left in the account.  I put the cash in my wallet and the checkbook in my desk, and that was it until the next pay day — no more bad checks.  It certainly wasn't the height of financial savvy, but I learned to track every penny and I felt pretty responsible after a few months.
The next year I got a raise, so I had my employer automatically buy savings bonds each month.  They aren't the greatest investment, but I couldn't easily undo the automatic investment and I couldn't easily cash them in.  My "portfolio" started growing and I was feeling pretty mature money-wise.
About this time I married my husband, a guy with only slight better financial chops than me.  Between the two of us, we had car and credit card loans over $55,000 in today's dollars, all with interest rates in the 20%+ range.  So we decided to pay off all our debts as fast as we could.  We lived on one paycheck and it took us over a year.  We felt fantastic when we got that debt off our shoulders!  Since we knew we could live on that one pay check, we started investing the amount we'd been allocating to debt.  After that, we became pretty savvy about all things financial and it got lots easier to make good decisions.  We definitely started late and moved slowly, but all the baby steps added up over time and we'll be retiring in our early 50's, never to work again.
So have you guessed what my resolution is?  It sure isn't "get it together and do everything right this year."  Every time I vowed to do EVERYTHING perfectly, I found myself breaking my resolution almost instantly.  I noticed this was true with more than finances:
"I'm going to get in shape, lose 20 pounds, and eat healthy" lasted about a week.
"I really mean it–I'm going to get the entire house squeaky clean, organized and beautifully decorated this year" didn't last past cleaning out the kitchen junk drawer.
"I'm going to cook a healthy meal for my family every night" immediately failed when I forgot to defrost the chicken and we were back on the fast food trail for good.
Every time I made a big plan, I crashed and burned.  It turns out I'm not perfect, my self-discipline is spotty, and it's really hard sticking with a resolution that I was continually failing to meet.  So I stopped making resolutions and plans, and I try to live with just one goal every day:
Do One Small Thing, Then Do Another.
In the financial realm, I just lived within my means.  Which gave me the motivation to save money.
On the health front, I went to one Weight Watchers meeting, which got me to another, and a year later to a loss of 40 lbs.
On the home front, I cleaned off my desk, which felt so good I got the whole house reasonably clean and organized after several months.
I started nagging other members of the family to do some of the cooking, and after a year we're down to one night a week of eating out.
Do One Small Thing, Then Do Another.  I don't set huge goals, and I don't beat myself up if I'm moving slowly.  I just keep doing small things and eventually they add up to a lot more success than all the big resolutions I never kept.
From what I've seen in your comments, most of you are way smarter than I was/am.  I suspect many of you actually keep your resolutions every year.  But on the off chance that some of our community is NORMAL and not perfect, how 'bout you share your One Small Thing?  What would you tell someone struggling with un-/under-employment, too much debt or too little savings?   How did you get started on the road to financial goodness?
——————
Barbara "Babs" Wagner is a former poster child for financial misadventure, who learned most of what she knows the hard way.  She has a degree in business and has studied personal finance, most of which she now ignores.  Her mission is to poke fun at conventional wisdom, keep money subservient to her values, and inspire others to learn from her mistakes.  She is currently staring at her garage and thinking her One Small Thing might involve dynamite.
(Photo by English106)
Featured savings tip
You already know that banks pay $$$ for the privilege of holding your money…it's called interest. But maybe you didn't know this: that so-called interest can be as little as .01%. If your cash savings aren't sitting in a high interest savings account that earns you at least 1%, you're basically saying "no" to free $$$!
Now, obviously the 1% interest you get with a high interest savings account like the one at Discover bank won't make you rich, but that extra 1% compounded over 30 years can grow into a *big* pile of cash. And if you wanna hit lofty $$$ goals, you should be looking for every edge possible.
Here's another way to look at it: if you leave $50,000 in a regular savings account, that's almost $500 you're just throwing away, each and every year you don't setup a high yield savings account! Will you do 5-10 minutes of work right now to earn an extra $500/year for years to come?
If you said "heck yes", then you can setup your high interest savings account here to start earning 1% on your cash savings.