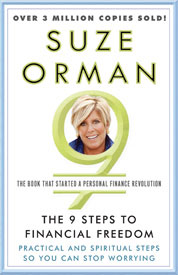 Or rather, her new REVISED book I should say: The 9 Steps to Financial Freedom. If you're a fan of good financial management, or of the popular guru Suze Orman, this is the book for you. (Even if she did ruffle some feathers the other month in blog land… ;))
I just got my own copy in the mail so haven't had a chance to peruse it yet, but considering she sold over 3 million copies of the original one, I'm pretty sure this one will be just as helpful – if not more now. Here's what's posted on Amazon about it:
With a new preface that reflects personal finance today, New York Times bestselling author and leading financial expert Suze Orman shares a refreshed version of The 9 Steps to Financial Freedom, the revolutionary, groundbreaking classic that changed the way we think, feel, and act about money. Unlike traditional money management books, 9 Steps approaches money from an emotional and spiritual point of view, emphasizing that fear, shame, and anger are the main obstacles to wealth.
Now, in these turbulent economic times, Suze's life-changing message from fifteen years ago is more important than ever. This reissued version of shows you:
That debt is bondage and how best to break free of it
Why the less you have, the more you need a revocable living trust
How to find the best financial adviser (look in the mirror!)
How to avoid being taken advantage of when buying life insurance
Which retirement accounts make sense and which do not
In nine simple steps, you'll learn all you need to know to be responsible with and respectful of the money you have and the money you don't have. Embrace Suze's groundbreaking philosophy—that you are worth more than your money—and understand the true meaning of wealth so you can live a life without regrets. If you do not have control over the money in your life right now, Suze's nine steps to financial freedom are for you.
How to win your own FREE copy:
Pretty powerful stuff :) If you're interested in one of the 3 copies we're giving out, all you have to do is answer this one question:
What does financial freedom mean to YOU?
Put your answer in the comments below, and we'll Random.org three lucky winners this Sunday, May 13th (Mother's Day!). So make sure your answers are in by midnight that night before. GOOD LUCK!! Hope those of you who need it the most wins! And for those who can't wait, you can buy it on Amazon right now for around $11 bucks it looks like. To financial freedom!
———————
GIVEAWAY OVER: Click here to see who won :)
************
Bonus tip: Find a good "balance transfer" offer to help pay off debt faster!
If you've been making payment after payment (on time) and still haven't been able to get your debt under control, snatching up a good balance transfer credit card offer may be the ticket to try. That's where in order to gain your business - credit card companies will let you transfer your existing debt to a new card and let you pay ZERO PERCENT interest on it. Saving you tons every month!
What's the catch? Usually balance transfer cards charge a fee (around 3% of your debt balance) to let you transfer your balance to their 0% interest offer. But we've found a great credit card that will let you do a balance transfer absolutely free. Click here to learn more and see if you qualify!
PS: If you don't trust yourself with another credit card, ignore this! This strategy is to help you get out of debt quicker, not risk adding more to it.