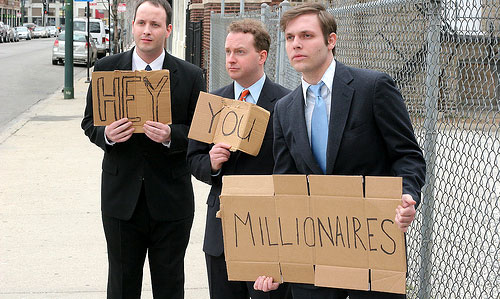 (Guest post by Jaime Tardy, who loves interviewing millionaires :))
Ever since I was little I wanted to be a millionaire. My Mom told me I should marry someone rich. And since I was young and thought boys were gross, I said, "No Mom, I want to make it myself!"
That started a bit of an obsession with money. I even made six figures in the corporate world at the age of 22. But alas, even with the money I wasn't very happy.
I ended up giving up my goal of a million for the goal of being happy. I quit my job, and found something I love to do. Once I was truly happy with my work (a few years ago), I added that goal of a million back in. I'm not a millionaire yet, but I'm working on it.
I've always been curious if real millionaires had goals to be millionaires when they were younger too? Did they stumble upon a great business idea, or did they plot and plan to make a million?
Here are some examples of the 50+ millionaires I've interviewed
MJ Demarco (MillionaireFastlane.com): Yes – MJ wanted to be a millionaire for a cool car.
"One day when I was younger, while heading to an ice cream store, I saw a Lamborghini Countach, and that's a car that I was just in love with at the time. You know, I had it on my walls for posters, I was always looking at it in magazines, and I saw one of them in front of an ice cream store and immediately thought to myself, 'Okay well this has got to be an old guy driving this car,' and the gentleman that came out probably was in his mid-20s and kind of not what I expected.

I mustered up the courage to go up to the guy and ask him, 'Hey, what do you do for a living?' He said he was an inventor. And that kind of blew me away as I expected him to be a baseball player or some kind of athlete or someone famous, but he was an inventor. That kind of set me off on a new path of beliefs and thoughts. That's what started my desire to be an entrepreneur and start looking into that as a way to create wealth, a way to control my financial future."
MJ did odd jobs and lived with his Mom till he was 26. He was trying to figure out the best, scalable way to become wealthy. He almost bought a limo business, but instead started on the internet. He matched up people at airports with limos companies, and later sold the business for $10 million dollars.
Adrian John Cartwood (7Million7Years.com): Yes – Adrian is a fellow personal finance blogger who's always wanted to be a millionaire.
"I had this idea that I wanted to be a millionaire by the time I was 21. That didn't happen so I figured I'd work on a plan to skip my first million and just start working on my second million. That worked quite well for me and that was the result we got: seven million in seven years."
He has an amazing story of just breaking even in his business and life for a long time. Then he started to think like a business owner instead of just a technician working in the business. Radical things happened for him after that. (Check out the interview if you want the whole story; he also talks a lot about person finance!)
Frank McKinney (FrankMckinney.com): No goal of reaching a million.
"So when I came to south Florida with only that fifty-dollar bill, I just wanted a job. I wanted an opportunity to pursue free enterprise and capitalism. I don't believe in the welfare mentality. I don't believe in the entitlement mentality. I was very proud to have that first job digging sand traps on a golf course earning $180 a week, but I always knew, subliminally, subconsciously, that there was a higher professional calling for Frank McKinney than digging ditches on a golf course. But I wasn't motivated by attaining a million dollars."
Frank is now a real estate daredevil, and creates $30 million dream homes on spec. But that's not how he started off. He started a tennis business giving lessons to wealthy people in Florida. That's how he realized real estate was a great wealth-building tool.
There was something more for Frank McKinney, and it's amazing what he does to give back. He now runs a charity that builds houses for people in Haiti, plus much more.
Sue Ismeil (Nads.com.au): No goal of reaching a million.

Sue was a mom and a medical records keeper. She didn't have aspirations of a million dollar company. She just wanted to help her daughter. She found a problem, getting rid of dark hair on her daughter's arms using all natural ingredients. She solved it with a green goo she called Nad's (after her daughter Nadine) and she was rewarded handsomely!
"I think the driving force for me back then was just to find a solution for my daughter. There was no other reason other than to solve her problem. Then when I got so excited and everyone loved this formula, the thought of starting a business entered my head and, of course, there are business skills, financial back ups, etc, and I had nothing. All I had was this idea and an enthusiasm that was like a giant ball of fire that just burned every obstacle in its path. That's how my business started."
The Results of the 50?
Looking at all of the millionaires I interviewed, most of them didn't have a goal to be a millionaire since they were little. (Note: I was totally hoping they did, because I thought that might give me better odds!)
One thing I can see that is a trait of all of them, is the desire to learn and be better. They wanted to be successful in what they chose to do. They had a drive to make themselves better, and their product or service better. They were always open to learning new things.
But there's one thing that we need to make sure of: that our goal to be wealthy is good for us. The "why" behind the goal to a million needs to be right for you. Here is what Dani Johnson, a multi-millionaire who was broke and homeless when she was young, said:
"If you are motivated and strangled and enslaved by greed, you will never be satisfied with how much you make, ever. I had a part of my life where I was completely controlled by greed and didn't even know it. No matter how much I made, I never was satisfied.

The millions never made me feel successful and that is eventually why I almost lost my life, because I was working towards something that I didn't even realize did not satisfy me.

That was because I literally carried a spirit of greed within me. No matter how many things I bought, no matter how many places I traveled to, no matter how many millions I made, I still felt like a failure."
Do you have a goal to be a millionaire? What drives you to achieve it?
———–
Jaime is a business coach and speaker and has been featured on CNN, MSNMoney, Success Magazine, Fortune.com, Yahoo and more. Each week she interviews millionaires for their stories and advice on how to become a millionaire. Check out the Top 10 Tips from self made millionaires.
(Photo by Mr. Guy F. Wicke)
Featured savings tip
You already know that banks pay $$$ for the privilege of holding your money…it's called interest. But maybe you didn't know this: that so-called interest can be as little as .01%. If your cash savings aren't sitting in a high interest savings account that earns you at least 1%, you're basically saying "no" to free $$$!
Now, obviously the 1% interest you get with a high interest savings account like the one at Discover bank won't make you rich, but that extra 1% compounded over 30 years can grow into a *big* pile of cash. And if you wanna hit lofty $$$ goals, you should be looking for every edge possible.
Here's another way to look at it: if you leave $50,000 in a regular savings account, that's almost $500 you're just throwing away, each and every year you don't setup a high yield savings account! Will you do 5-10 minutes of work right now to earn an extra $500/year for years to come?
If you said "heck yes", then you can setup your high interest savings account here to start earning 1% on your cash savings.