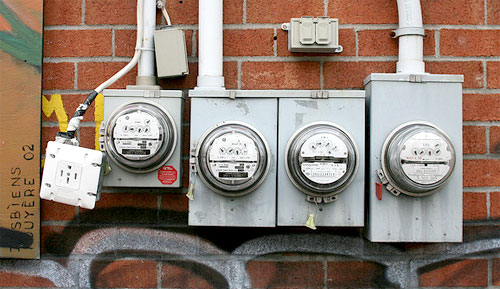 I got these from a pamphlet on 100+ Ways to Improve Your Electric Bill, but the others just bored me to death and were too full of acronyms and heavy text ;)  So I plucked out a handful of my favorites instead to share with y'all today, as some of them I had nooooo idea about and even thought that the opposite would be true!
So check them out and see if they help you out at all.  I doubt I'll change much of my own habits after reading the whole thing, but it was nice to know at least a few of the things we already do make sense energy-wise :) Maybe you'll get something out of 'em all too? #1 and #6 were my faves…

The 14 Most Interesting Tips:
Run the dishwasher instead of washing dishes by hand. Overall dishwashers use much less water (6 less gallons) than washing them by hand if you have a full load. Luckily we already do this one, but who knew? I always thought it was the opposite… and maybe it was back in the day? But now technology made it more efficient?
Keep the doors of unused rooms shut, and then close the vents and/or AC units in them to conserve energy.  I think this one's a bit too hardcore for me – I like floating from one room to the next without having to opening and closing doors all over the place ;)  I already have to keep one of them closed all the time (cuz one of our cats will pee all over the rug in there!), and even that is hard to remember to do every day.
NEVER put a refrigerator in the garage!  The temperature gets too crazy out there during peak winter and summer months, so if you need a 2nd one they say to put it in the basement instead.
Don't place uncovered liquids in refrigerators either. Not only do they absorb undesirable flavors, but they also give off vapors that add to the compressor workload.
Use chest-type freezers when you can – they use anywhere from 11 to 27 percent less energy than upright freezers.
Use your microwave oven whenever possible. Microwave ovens draw less than half the power of their conventional counterparts and cook for a much shorter period of time.
As well as electric smooth top stoves – they're much more efficient than both gas stoves (74.2% vs 15.6%), as well as coil cooktops (73.7%) according to the U.S. Department of Energy.
You'll save more hot water by taking showers over baths – sometimes by even 50%! (Another thing I always thought was the opposite!)
When possible, put lamps in the corner of a room rather than against a flat wall as it has more surfaces to reflect light.
Also, be sure to dust lamps and bulbs often as it'll impair lighting efficiency – something I NEVER do, oops!
The next time you buy a washing machine, consider getting a front-loading or horizontal axis washing machine (??) over regular ones – they'll save you 30% less water and up to 50% energy as well on average (and are gentler on your clothes).
If you have no preference in TV types, go with rear projection TVs – they're typically more efficient than both LCDs and plasmas (plasmas use the most energy).  Though who knows how much longer they'll be around for, haha… we're not getting rid of our 60″ one any time soon :)
Opt for light-colored roof shingles over dark ones to reflect more sunlight away (and thus keeping your place cooler in the heat). Though I suppose you'd want the opposite in the winter, no? Not much you can do about it anyways unless you're about to build a house from scratch, haha…
And lastly, a quick fact: The average home uses 24 electrical products, accounting for up to 15% of household electricity. So when they're not in use, keep them turned off!
Did you have any idea about all this?  Or am I just a complete moron over here? Haha… regardless, we can all be doing more to cut down on energy costs for sure.  Especially on house-hold related stuff.  If you have any of your OWN tips you'd like to share, please do! We could always use more ways to save some money, especially if they're super easy to implement ;)
—————
PS: To download all 100+ tips on energy-saving, click here (it's a pdf).
(Photo by nicolasnova)
Featured savings tip
You already know that banks pay $$$ for the privilege of holding your money…it's called interest. But maybe you didn't know this: that so-called interest can be as little as .01%. If your cash savings aren't sitting in a high interest savings account that earns you at least 1%, you're basically saying "no" to free $$$!
Now, obviously the 1% interest you get with a high interest savings account like the one at Discover bank won't make you rich, but that extra 1% compounded over 30 years can grow into a *big* pile of cash. And if you wanna hit lofty $$$ goals, you should be looking for every edge possible.
Here's another way to look at it: if you leave $50,000 in a regular savings account, that's almost $500 you're just throwing away, each and every year you don't setup a high yield savings account! Will you do 5-10 minutes of work right now to earn an extra $500/year for years to come?
If you said "heck yes", then you can setup your high interest savings account here to start earning 1% on your cash savings.