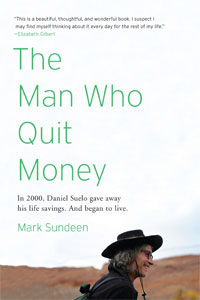 I don't think I could do it.  In fact, I don't think I *WANT* to do it! Haha… but, I think it's one of the most interesting things in the world someone can do, and I find it all kinds of fascinating.
And apparently so does my friend (and fellow car-giver!) Miss Britt who just read a book on someone who's actually doing this right now! As insane as it sounds…
The book's called "The Man Who Quit Money" by Mark Sundeen, and it's about a guy named Daniel Suelo who lives life without touching a cent whatsoever.  I have yet to read it as yet (it's at the top of my list!), but from Britt's review, and just looking at Amazon's summary below, it's all kinds of crazy :)
Check it out:
In 2000, Daniel Suelo left his life savings – all thirty dollars of it – in a phone booth… [and] has learned to live, sanely and happily, without earning, receiving, or spending a single cent. Suelo doesn't pay taxes, or accept food stamps or welfare. He lives in caves in the Utah canyonlands, forages wild foods and gourmet discards. He no longer even carries an I.D. Yet he manages to amply fulfill not only the basic human needs-for shelter, food, and warmth-but, to an enviable degree, the universal desires for companionship, purpose, and spiritual engagement.
Now, I'm definitely one who loves getting all hardcore on a mission, but my LORD is that taking it to the extreme! I wouldn't have the balls or knowhow to even last 7 days, none the less 12 years or however long it's been, haha… How do you provide for your future, or your kids/family's future, with nothing saved? Or can you only do it while riding solo? (And what if you got sick or couldn't physically work anymore?  Is it game over?  Should I just read the book and find out?? ;))
Either way, I think the CHALLENGE itself is great.  And even more so, the potential we all have inside us to actually PULL THIS STUFF OFF when we commit to it 100% like that. Think of all the awesome stuff YOU could accomplish if you pour your hearts into a project and get super creative with it all! That's how dreams and goals are met, right?  Setting your mind to something and pushing the limits over and over again until you reach it? Maybe y'all are already doing that and reaping the rewards?
As much as this inspires me, it also makes me feel like a big panzy too for even thinking of giving up on my No Mortgage mission! Haha… guys like Daniel are out there killin' it every single day for something they really believe in (just like my debt-freedom dream), and then here I am complaining of a little extra hustling ;) I gotta start owning up a bit more…
I also thought about my reasons why I couldn't pull something like this off, other than my wife divorcing me and not being able to blog anymore for a living (it costs money to keep this stuff up!). 
In about 30 seconds I came up with a good 10 or so:
I suck at camping
I could be very lazy at times
I'd have to give up my currency collection ;)
My future baby wouldn't get any medical attention
I really wanna leave something behind to my family and future generations
I love touching and feeling and managing money in general
I enjoy working on business ideas: non-for-profit AND for-profit
I think paying taxes is pretty important for the general good
I like drinking beer and engaging in other social activities around town
And lastly, I enjoy the ability to go out and by something on demand
So as much as I love the idea of never needing money, or the amazing challenge of accomplishing this feat, deep down I know it's not for me. But I give Daniel all the respect in the world for getting out there and pulling it off! I don't know many people at all (or any, really?) who could even come close to doing it. And I'm super excited to pick up the book and live in his shoes for a bit too… then come up with my own wild dream to write about one day, and very much for profit ;)
How about you? Think you could ever pull off a lifestyle like this?  What reasons would be on YOUR list if you were to write a few of 'em out?  If you've already read the book, do tell us what you thought! Stuff like this always stops me in my tracks and gets me to reflect a little more in life, and I very much enjoy the mental break.
———–
PS: How do you think he got compensated for the book? ;)
Featured savings tip
You already know that banks pay $$$ for the privilege of holding your money…it's called interest. But maybe you didn't know this: that so-called interest can be as little as .01%. If your cash savings aren't sitting in a high interest savings account that earns you at least 1%, you're basically saying "no" to free $$$!
Now, obviously the 1% interest you get with a high interest savings account like the one at Discover bank won't make you rich, but that extra 1% compounded over 30 years can grow into a *big* pile of cash. And if you wanna hit lofty $$$ goals, you should be looking for every edge possible.
Here's another way to look at it: if you leave $50,000 in a regular savings account, that's almost $500 you're just throwing away, each and every year you don't setup a high yield savings account! Will you do 5-10 minutes of work right now to earn an extra $500/year for years to come?
If you said "heck yes", then you can setup your high interest savings account here to start earning 1% on your cash savings.