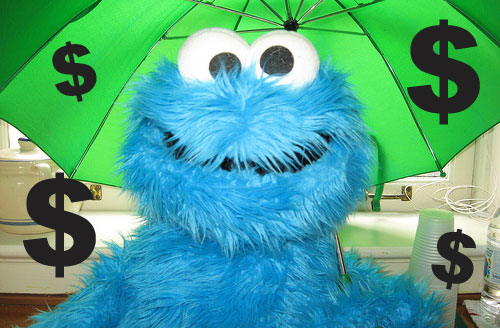 As you can tell from yesterday's clean up of all our banking accounts, change is in the air and we're not stopping until we've gone over all of our (financial) hopes and dreams ;) We got a lot of our "extras" out of the way the past few days, but one thing that had been eating me up for quite some time now was the way we were handling all our cash reserves.  In particular, our Emergency Fund.
When we first created it 4+ years ago, the dream was to get it back up to $5,200 after some massive mistakes on my end trying to game the system with our home equity line of credit and effectively "losing" it all in one fowl swoop (one of the first posts I ever did!). I was also pretty notorious for xfering money in and out of accounts all the time too due to my lack of poor management skills and basic addition, but eventually I caught on and understand that you had to LEAVE YOUR MONEY ALONE in order for it to grow ;) You couldn't be taking it out all the time, even if you meant to put it back later.
So $0.00 became $3,000, which then became $5,200, and then eventually grew into $10,000 where we  just left it alone and figured it was "enough." It was a solid number which I greatly liked, but one I didn't really pay too close attention to over the past four years as our lives went on, and our circumstances changed. Back then $10k had covered roughly 3 months of living expenses when I was pretty much living ALONE, but outside of that there was no real rhyme or rhythm to it – something many of you caught on to, and had continued to ask me about on almost all of our net worth updates since ;)
It wasn't until a reader of this blog, Bobbi, left a comment here in May that REALLY got me to stop and re-evaluate everything. I had been bitching and moaning about how hard it was getting to continue forward with our mortgage payoff plan, and wondering if I should do something else w/ all the money instead (like save it), and this is what she (he?) said:
"I am curious as to what level of savings you feel comfortable with? Almost 80k in cash and no other debt is pretty comforting to me… Maybe an idea is to come up with a set level of savings… For example… say 65K…. and you commit to keeping it at that level. That way you have a 'plan'. You continue to pay for repairs and pay down mortgage and whatever while your savings remain at that level. If it dips below that you stop the mortgage plan and throw everything back in savings until you get back to your original 65K… When x happens you do y. You know how you are going to deal with it. That may give you peace of mind."
That really hit me hard. I knew I was comfortable with the amount of cash we had stored up already (at this point $70,000, scattered across a handful of accounts), but it never dawned on me to actually TALK about a number out loud and then finalize it.  Some months I could be fine with $50k and others $100k, but I didn't know what the wife thought really on it outside of "I just want a lot of cash there just in case" type deal.  We had both been wishy washy about it over the  years, and this comment physically got me to speak up :) So thanks Bobbi, wherever you are!
That night on our walk around the neighborhood, the Mrs. and I talked about our future goals and what would make us both happy cash-wise, and outside-wise.  We knew we wanted "enough" to not worry about things down the line, but what that actually meant we weren't sure.  $60,000?  $100,00? What would we ever need it for?  How long would it last if we both lost our entire incomes?
We chatted about it all. And in the end we decided that, YES, we wanted a big chunk as liquid as possible to make us feel totally comfortable every single day – esp now that we have  a child in the family – but not TOO MUCH where it hindered growth in other areas of our net worth goals either. We wanted to draw the line again at one solid number we needed to have in our account no matter what.
And this is the number we decided on: $66,000.
Approximately 12 months worth of monthly income needed to survive at our current lifestyle today – not including any additional savings and/or investing. (Pretty scary, huh?  And that's AFTER tax!)  If my income stopped tomorrow, we'd be able to comfortably live with nothing else needed for an entire year.  And putting THAT into perspective is just incredible. We've had over $66,000 many times over the years, but psychologically it was never enough!  It was just one big soggy number with no true meaning behind it. And now that we have a solid baseline to stay on top of going forward, it feels like our minds have totally opened up and can breathe a sigh of relief ;)  We've figured it out!!
And on top of that, I now KNOW how much money I have to play with too in order to grow our net worth even more! The goal isn't to just keep adding more and more money to the pot in order to feel safer and safer and SAFER (there's only so much "safe" an entrepreneur can take!), but really to have a cut off point too so we know how much *additional* money we have to grow OTHER areas of our finances too. Whether this means more mortgage payoff, stocks invested, or even my grand idea of snatching up an investment property! Haha… it doesn't really matter. As long as those cash reserves never dip below $66,000 again, all will be good in the Money household going forward.  And if it ever DOES go under that new magic number, well, I'll have to do whatever it takes to get it filled back up!  Even if that means stopping right in the middle of a new project or goal – no ifs, ands, or buts about it says the wife ;)
Once we figured out this new plan, it was then about making it EASIER for us to follow and make sure we didn't go back to our older ways again.  Before Operation Streamline yesterday, all of our cash was scattered across a ton of accounts:
In my personal checking
In my personal savings
In Mrs BudgetsAreSexy's personal checking
In Mrs. BudgetsAreSexy's personal savings
In my business account
And in our old Emergency Fund (aka money market account)
And now, we've condensed it to this:

One Monster Cash Account (aka our house savings)
Instead of adding up tons of accounts to see what our main totals are at any point in time, now all we have to do now is look at the ONE and be done with it!  We'll know instantly where we stand with one simple glance – it's awesome.  And not even close to brain surgery :) Of all the changes that went into effect yesterday, this was by far one of the BEST we made. And now we both have immediate access to it too, making our lives even simpler!
If anyone's struggling to put together a good game plan out there yourself, I highly suggest standing back for a bit and taking a broader look at your overall picture.  Maybe moving around some bank accounts and/or money will better fit into your new lifestyle/goals too?  Maybe you have some other nagging annoyances going around in your head that you know you should stop pushing off?
Whatever the case, only YOU know what types of things need to be fixed in your financial lives, and from my own experience here over the past few days, I can tell you it's MUCH better to just honker down and get it all figured out NOW.  The more it stews, the worse it gets, and there's nothing better than a clear plan and a clear head :)  I wish you all the both!
———–
(Photo by bsabarnowl. Edits by J$)
Featured savings tip
You already know that banks pay $$$ for the privilege of holding your money…it's called interest. But maybe you didn't know this: that so-called interest can be as little as .01%. If your cash savings aren't sitting in a high interest savings account that earns you at least 1%, you're basically saying "no" to free $$$!
Now, obviously the 1% interest you get with a high interest savings account like the one at Discover bank won't make you rich, but that extra 1% compounded over 30 years can grow into a *big* pile of cash. And if you wanna hit lofty $$$ goals, you should be looking for every edge possible.
Here's another way to look at it: if you leave $50,000 in a regular savings account, that's almost $500 you're just throwing away, each and every year you don't setup a high yield savings account! Will you do 5-10 minutes of work right now to earn an extra $500/year for years to come?
If you said "heck yes", then you can setup your high interest savings account here to start earning 1% on your cash savings.