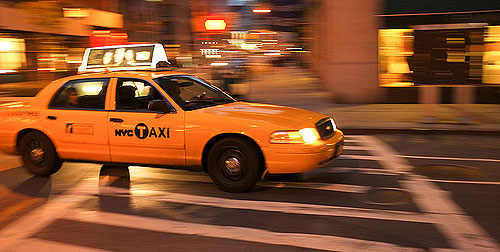 Today's post is about two cab rides: One I gladly accepted in order to better my life, and the other I was forced into in order to help my wife. Bear with me here ;)
The time I took a $65 cab instead of an $18 Super Shuttle
Last week at this time I was getting pumped up about our Financial Blogger Conference starting the following day. I had taken a look at the schedule to semi plan my first few days there, and was elated to see that one of the things the organizer had put together was a free tour of the Denver Mint!  Where they make tons and tons of money, as well as tons of tons of financial bloggers tons of happy ;)
The only problem? My flight was getting in exactly 55 minutes before the tour.  And if you've ever been to the Denver airport, you know it's at least a 30 min trip to the city on a GOOD day. Not including the time it takes to get from terminal to terminal, or the wait you have to do to pick up your bag. So needless to say I was pretty worried of missing this golden opportunity to be with my fellow coins.
As luck would have it, though, it happened to be a good day! We landed right on the scheduled minute, my bag was waiting for me when I got to the carousel (unlike on my return flight where my bag got lost!), and I had approximately 35 minutes left to pick out my transportation and high tail it outta there. The only problem was the major discrepancy in cost.
Route 1 was the most convenient, but also the most direct – a cab at $58 plus tip (We'll call it $65). The other – a slow as molasses blue Super Shuttle which would have saved me some pesos, to the tune of $40!, but would have also cost me the tour in return. There was no way that thing was getting to my destination in under 35 minutes – I've been fooled by them before. So I sucked up my panties, hopped in that cab as fast as I could, and off we went to make a grown man happy :) With a good chance of making that same grown man cry had he missed it AND had to pay $40 more to do so.
But I'm happy to report that I not only made it, but also had one of the best experiences ever! And even came away with a new coin for my recent collection – a one ounce uncirculated silver coin. Which you now know a little more about if you read yesterday's post :)
The moral of the story? Sometimes money is meant to be spent – even if people give you the judgy face.  I can't tell you how many people thought it was stupid I paid so much just to take a crazy (to them) tour. I know not everyone's a fan of that kinda stuff, but the important thing to remember is that we all prioritize our money DIFFERENTLY.  And that's okay!  As long as WE'RE doing the prioritizing ourselves, and not those thumbing their noses at us just 'cuz they'd rather spend it on throw pillows or malt balls. It's our money to spend however we want!
The time I took a $100 cab 'cuz my plane was delayed
While that ride TO the conference was perfection as we know it, the one back home was anything but. My starting flight not only got delayed causing me to miss my connecting one, but I then ended up in an entirely different airport with one less bag than I had initially checked. At midnight, and on a Sunday.  Now with one less major mode of transportation at my disposal (my wife – who kindly asked that I find my own way home as she could no longer pick me up anymore, and whom I didn't dare battle with after leaving her alone with a screaming 2-month old for 4 days straight :()
So for a second time this week, I had to make the dreaded Taxi vs Super Shuttle choice again. Only this time I really didn't want to spend any more money than I had to considering the long weekend I just had away with hotels/flights/food/etc. I preferred to get home quicker to check on the baby and make sure all was fine at home, but at that point it wasn't going to make much of a difference had I shown up at 1 a.m. or 2 a.m. – the only thing that was in jeopardy at that point was my patience. And that I could live with if it meant saving $60-$70 dollars this time around.
With my choice easily made, I walked up to those big blue ticket counter thingies, asked the guy when the next bus out is, and to my dismay find that the last one had already gone for the night.  Leaving me yet again in the cabbie's corner, forced to unload some more of my tired little dollars… And one hour and $100 later (I live damn far from that airport), I'm home and finished with the decision making once and for all. Ugh…
The moral of THIS story?  Even when you prioritize your spending, you STILL sometimes get jacked!  But there's really nothing you can do to avoid it, so you just gotta roll with the punches and hope that the future plays nicer with you next time. Sometimes you win, and sometimes you lose.  And the more padding you have to catch you fall (aka savings), the better you'll bounce back out of it too! Had I needed that $100 for my mortgage or something, I'd have been in pretty deep doo-doo.
So prioritization and rolling with the punches. These are the two things to think about while living your days today, okay? :) One may be harder than the other, but they're both super important to master. Perhaps you're even dealing with one of them right now? Anyone want to share?
————-
(Photo by S. Diddy)
Featured savings tip
You already know that banks pay $$$ for the privilege of holding your money…it's called interest. But maybe you didn't know this: that so-called interest can be as little as .01%. If your cash savings aren't sitting in a high interest savings account that earns you at least 1%, you're basically saying "no" to free $$$!
Now, obviously the 1% interest you get with a high interest savings account like the one at Discover bank won't make you rich, but that extra 1% compounded over 30 years can grow into a *big* pile of cash. And if you wanna hit lofty $$$ goals, you should be looking for every edge possible.
Here's another way to look at it: if you leave $50,000 in a regular savings account, that's almost $500 you're just throwing away, each and every year you don't setup a high yield savings account! Will you do 5-10 minutes of work right now to earn an extra $500/year for years to come?
If you said "heck yes", then you can setup your high interest savings account here to start earning 1% on your cash savings.