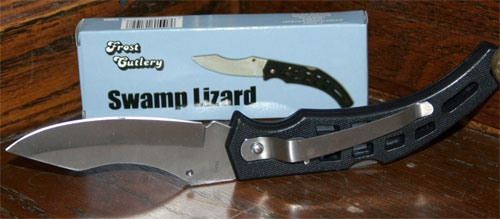 How's THAT for a title? ;) And luckily the tool I wanna share with y'all today is just as juicy too! At least with the way I operate my Amazon addiction… I swear it seems I buy EVERYTHING there now – remember when it was only about books? (Or am I dating myself there? Haha…)
If you pay for Amazon Prime, then this won't apply to you much, but for those frugal bastards who don't like paying more for things when you can get them cheaper, especially since half the time the items come within 2-3 days anyways, this article today is for you.
I was on the phone with a friend of mine trying to figure out if launching a thrift store finder site would be a good idea or not (I later found out there was already a big one that owns the market: The Thrift Shopper, though I still think it would be fun…), and at some point our conversation turned to other online tools we like and use all the time ourselves. Places like Outright.com for me – which automatically handles all my business income/expenses/etc which will SAVE my ass during tax season – and a place called FillerItem.com for him. Which today's post is all about.

You know how you always need to hit $25.00 in items to qualify for Amazon's Free "Super Saver Shipping?"
But of course you never buy enough to actually HIT IT so you go searching around for something to make up the difference, and only end up spending more in the end? For something you didn't even care about to begin with? Well, this site helps you with that :)
All you do is basically just type in the dollar amount you need left to reach that $25.00 mark ($1.78, $3.00, $0.12, etc), and out will come a list of alllll the items they sell that reach those parameters! Most times dead on with the amounts, and others a handful of pennies more. But all of them help you to use your money more efficiently. And the items that are more popular get bolded over the ones that aren't, and then the SUPER popular ones come with a tiny pic attached too.
Admittedly it's not the most beautifully designed site in the world, what with its text links all over the place, but who really cares when you're there to complete your mission? To be honest I'm just pissed I never thought of it first myself! Haha… It woulda been full of pretty little thumbnail images instead so you can choose your items a lot quicker ;) But who am I to be picky?
At any rate, earlier this week when I was checking out and realized I was short $0.87 without any more items to buy (I usually just throw things in my cart until I reach $25.00, but sometimes it can take forever), I decided to give this a chance and see how it works in practice… And I fell in love!
I clicked right on over, entered my $0.87 that I needed, and it spit out over 200+ links one after another for me to choose from. Which I then scrolled through until something interesting caught my eye. Something that had a cool enough name that had nothing to do with "steel pipe fittings" or "Walton replacement fingers" (what the heck are those?).
Here's a snapshot of the first few items that popped out: (And yes, you can see I was curious about those nipple things! Haha… Nothing interesting there, I can assure you ;))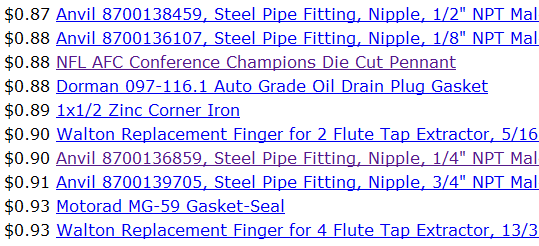 Eventually something DID pique my interest, though, and it's title was simply, "
Swamp Lizard
." No description, no measurements, just plain ol'
Swamp Lizard
. I was both intrigued and curious as to what kind of reptile this could be for a mere 87 cents :) But boy did I have it wrong – the thing ended up being a KNIFE!  A pretty slick looking one too! Haha.. I was sold. What guy doesn't like knives?
Now, granted you could say these are all things you truly don't *need*, and thus you're still stuck in that same position of picking up junk just to get your free shipping, BUT – and this is a big but – even if it were junk, the fact is you're still saving on all that ADDITIONAL money you would have spent anyways over the $25.00! So if you waste $.87 instead of $5.87 – Awesome! And even better if you can actually use the add-on item too – something that shouldn't be that hard to do anyways considering there's like 200+ items to choose from when you search.
So needless to say I'm a pretty happy blogger right now :) Not only do I have a kick-ass knife that I'll probably put in my wife's glove compartment to use in case of an emergency (or maybe my own?), but I also now have a killer site to use for the  next time(s) I get stuck again too! Nothing like a simple idea to make your life a lot easier going forward…
Y'all should give it a shot too the next time you're stuck in free shipping limbo :) If you don't like any of the random items you find, you can always give them to someone else as stocking stuffers! Haha… That would be hilarious… You should do that.
Featured savings tip
You already know that banks pay $$$ for the privilege of holding your money…it's called interest. But maybe you didn't know this: that so-called interest can be as little as .01%. If your cash savings aren't sitting in a high interest savings account that earns you at least 1%, you're basically saying "no" to free $$$!
Now, obviously the 1% interest you get with a high interest savings account like the one at Discover bank won't make you rich, but that extra 1% compounded over 30 years can grow into a *big* pile of cash. And if you wanna hit lofty $$$ goals, you should be looking for every edge possible.
Here's another way to look at it: if you leave $50,000 in a regular savings account, that's almost $500 you're just throwing away, each and every year you don't setup a high yield savings account! Will you do 5-10 minutes of work right now to earn an extra $500/year for years to come?
If you said "heck yes", then you can setup your high interest savings account here to start earning 1% on your cash savings.