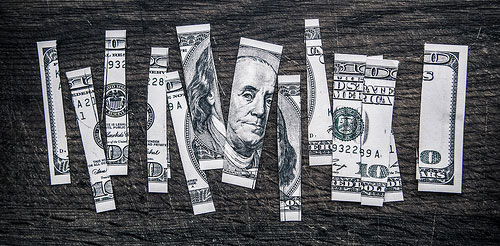 You remember when we started living off one paycheck 4 months ago? Well, the non-fun is now over! Haha… The wife's part-time money just started flowing in and I feel like a new man today ;) The first time ever trying it and we made it out alive! (Although again, not much fun…)
But at least now we know it's do-able. And if we continue living off just the one (mine) for all daily expenses/savings/etc, then it means everything extra is just that: EXTRA! And that's the beauty of it all – you then get mad *options* going forward!
Before we get to that though, let me give you an update on Operation Stay-At-Home Twice a Week Dadness ;) Because to make that extra income even a possibility in our household, it meant someone had to watch the wee one while mom was off to work! And you can bet your sweet little patukis that we weren't going to dump $900 into childcare for it – no siree. I put on my big boy pants and took a whirl at watching the little guy myself.
And here's how that's been going so far – it's pretty close to what I had originally suspected:
I'm now bonding a TON more than I used to with Baby $! In fact, I don't even think I knew what bonding was until I spent the first 12 hours straight – and alone- with him! You really do get to watch him grow right in front of your eyes and learn all about his personality :)
I'm a lot LESS stressed out during the week. Which is actually pretty amazing considering it now means I squeeze 5 full working days into 3! But having a "day off" every other day kinda helps spread out my sanity too, haha… It was a nice surprise.
It feels like a "day off" more than it does work. Only because it's MY kid though ;) And I don't say that to discount the hard work or meaningfulness of it all when other mothers and family members are taking care of them (it really IS a full-time job!), but for me comparing it with a 12 hour work day in front of a computer screen it's like apples to oranges. The computer screen is full of awesome people, but it doesn't smile back and thank me for showing it love all day long like my baby does ;) And that's one incredibly awesome ingredient.
I feel like I'm helping around the house more. Like I'm more "there" ya know? Not caught up in business or begrudgingly doing chores to fulfill my household duties or whatever. When it's actually scheduled in like it is now two days a week (Tuesdays and Thursdays), my mind can mentally prepare and I know to make the baby #1 on the priority list then. Which makes a WORLD of a difference, and something I initially didn't foresee. It's beautiful :)
The wife is now enjoying more *adult* time! Even though it's spent driving in traffic and working long days again ;) But for anyone who has kids at home, especially young ones, you know the importance of taking breaks and surrounding yourself with people who can actually talk back, haha… It's a nice break for her, and something I'm sure she'll want to continue and eventually go back to full-time when she's ready.
And of course, then there's the money saved – and earned! – now that the wife is back to working a couple times a week. We not only save the $900+ a month while I'm watching him every week, but we're also now gaining $750 every two weeks from her paycheck now! A pretty nifty trade indeed. And since I'm still working my 40+ hours a week anyways – albeit all hours of the day and night now – we really don't lose that much other than a few more hours of sleep… But who needs those anyways? ;)
So overall a GREAT first month, and now we sit back and watch the paychecks come in. At least until the end of the semester when her fellowship technically expires (but we'll probably renew if we're still living here by then). $1,500 a month that's totally and completely EXTRA – I love it. And that's the greatness of learning to live on one paycheck – If you can stick to it no matter what in the future, everything else becomes gravy! And if times get hard later, you can always adjust the flow whenever you want until you're back to living large again.
Then what to DO with it all becomes the fun part :) Do we save it? Pay off debt? Splurge??? (Shoooot, you know we couldn't do that even if we wanted – we're old conservative parents now! Haha)
Here are the options that are in front of us:
Keep filling up our Monster Savings account. Something the Mrs. wants, but who I have to keep reminding that we already agreed $66k is enough for an emergency fund! That's 12 months of living right there – we can't keep on hoarding it.
Put it towards all those home improvements we so desire. Like hardwood floors, new cabinets, new appliances, etc. But since our house has been falling a part throughout most of the year, I'm kinda sick of pouring more money into it at the present time… Maybe when/if we have a nice stretch of nothing bad happening we'll then divert a little to sprucing up the place a little more.
Pick up that SUV our family will need real soon. This is the area we probably *should* do sooner than later if I'm being honest, but then again we don't know how long these extra paychecks will be coming in for especially if we move to another state here soon, and also I dread having car payments again :( It's been years since either of us have had them! And if our cars are working just fine, is there really a rush? (Don't answer that wifey)
Get back to paying our 2nd mortgage off again. DING DING DING!!! Haha… of course this is gonna come on the radar again! Especially after the last couple of months of not being able to put in the full $2,000 like I have wanted to do… The faster we have zero mortgage payments, the faster we can live a saner and more debt-free lifestyle! And then we'll be playing the "what do do with $2,200 a month extra" game! Haha… minus taxes/etc, of course.
As you can see we're leaning towards that last option as it stands right now. Or at least I am. But since I get to make the final decision being our family's Chief Financial Officer, you can bet I'm gonna at least have some debt-slaying fun for a little while ;) I want those damn things gone!
So the key takeaway for today: The more you can live off less now, the more options you'll have later. And the more you stick to it – even when times are GOOD – the better you'll be in the long term too no matter what you end up doing with that money. As long as it's not going towards strippers and blow or anything, haha… That increases something else instead of your wealth ;)
It's also important to have an idea what you'd do with extra cash every month too. It'll not only prepare you better for when that magical time comes, but it might also MOTIVATE you to get there quicker!  And that's something we can all use a little more of these days.
Hope this inspires you!
————
(Brilliant photo by Tax Credits)
Featured savings tip
You already know that banks pay $$$ for the privilege of holding your money…it's called interest. But maybe you didn't know this: that so-called interest can be as little as .01%. If your cash savings aren't sitting in a high interest savings account that earns you at least 1%, you're basically saying "no" to free $$$!
Now, obviously the 1% interest you get with a high interest savings account like the one at Discover bank won't make you rich, but that extra 1% compounded over 30 years can grow into a *big* pile of cash. And if you wanna hit lofty $$$ goals, you should be looking for every edge possible.
Here's another way to look at it: if you leave $50,000 in a regular savings account, that's almost $500 you're just throwing away, each and every year you don't setup a high yield savings account! Will you do 5-10 minutes of work right now to earn an extra $500/year for years to come?
If you said "heck yes", then you can setup your high interest savings account here to start earning 1% on your cash savings.