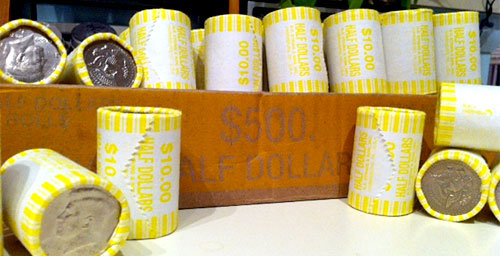 I'm at it again!! Round two of looking for silver in coin rolls :) Only this time I'm raising the stakes a bit and trying a new route. 'Cuz if you recall from my last shot at this, I failed pretty miserably, haha… But who knew coins from 50 years ago wouldn't be in circulation anymore? Especially those worth 10x-40x their value? ;)
Yup, last time we tried searching through $40+ worth of quarters, dimes and nickels for this elusive silver metal content (coins minted before 1965, except for nickels which are in the 1942 – 1945 range), and when the hour was over I swore I wouldn't do it again. I had a major headache and I lost interest after scouring my first hundred coins…
But now, 3 months later, and after working on filling all my Whitman blue books of modern coins (to help me learn more and appreciate the "sport" of coin collecting), I've gotten MUCH better at sorting and now I even enjoy it! Imagine that?
Here's what my new Friday nights now consist of, haha: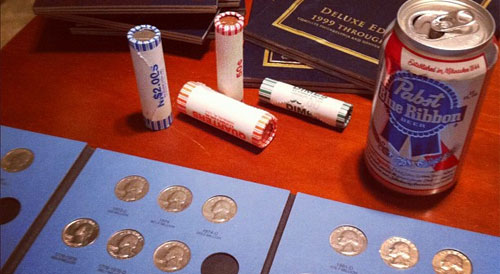 Anyways, it's safe to say I've learned a TON over the months
, and now I want to take it a step further and see what happens if I go after bigger, more easily found (in my opinion) silver coins instead. I've probably searched through another $300 worth of quarters/dimes/nickels since my first go at it too – mainly to fill up those books, not look for silver – and it's safe to say the odds are extremely against you. I have literally found only TWO coins made of silver the entire time, and they were both nickels worth about $2 each. So all those hours spent clearly don't equate to the $4 of profit. Or really the $3.50 if you were to "cash it in" at a pawn broker/coin dealer.
So how do you do it bigger? You go after larger denominations of coins! In bigger chunks! :)
One day I saw rolls of half dollars for sale on eBay – which is funny cuz it's like you're paying money for MONEY – and people were marketing 'em out as "un-searched rolls with the possibility of finding silver" in them. And of course marking up the costs from $10.00 a roll (which is what each one is inherently worth), to $12.50-$15.00. A nice little premium for the chance of finding something worth $8-$15/ea. (depending on silver content), or even better – a rare coin worth more by collectors.
Against my better judgement I bought two rolls at $12.50 a pop + shipping just to see what the deal was. And while I didn't find anything spectacular (big shock), the adrenaline rush I got made up for it. Somewhat similar to when I used to pick up lottery tickets all the time, only in this case I was left with a pile of coins in the end instead of nothing ;) And again, since I was now collecting all the dates of modern coins anyways, I needed to start searching for them in order to complete my collection.
Where To Get Boxes of Half Dollar Rolls
And then I got to thinking…. Where are these guys finding all these half dollar rolls? Not at their banks right? 'Cuz every time I ask for half dollars or silver dollars or whatever (while picking up my $2 bills, of course), they rarely have any. Especially during the holidays 'cuz everyone picks them up for stocking stuffers!! A great idea, btw ;)
So the next time I went to my bank, I just flat out asked if I could get a roll of half dollars, knowing they'll say no. And that they didn't have any. And sure enough that happened. Only THIS time I asked if I could *order* any from them? Thinking maybe that will do the trick? And yet again I got shot down.
"Sorry, we don't order them for customers anymore. Everyone kept getting them to search for silver, and then cashing them back in our coin machine and costing us money! So now there's a company wide policy that only business account holders can order them."
"Woahhh… what a great idea, I hadn't even though of that! (Lie) People are crazy…. (truth). But actually, I *do* happen to run my business accounts through you all, and would love to pick up a few rolls for it. Can you hook me up?"
"Oh, that's right – sorry. Well, we only do them in $500 batches I'm afraid as the orders come in boxes of 50 rolls each. You probably don't want that… (Goes to help the next customer in line…)"
"Wait! That's fine! I can actually use a lot of them for my flea marketing business I've started (90% lie, and 10% truth. I will be setting up shop at my fave flea market, but that doesn't start until the Spring and I surely don't need hundreds of half dollars for it). Order me a box!"
"Ummm… okay sure. Come back next Thursday and it'll be here waiting for you. (Leaves with a confused look on his face…)"
"I love you!" (Okay, I didn't really say that but I wanted to.)
And that, my friends, is how you get your hands on some half-dollar rolls ;) Not that I necessarily wanted 1,000 coins for my next silver test, haha, but you gotta do what you gotta do sometimes. And again – it's still REAL money so I can use it/cash them in anytime! Just not at *my* bank, obviously, for fear of  drawing suspicion and ruining my hook up ;)
And sure enough, after the two weeks passed, I went in and grabbed my new (deceptively heavy) box of 50 un-searched wrapped half dollars! Which is currently on my counter right now looking like this: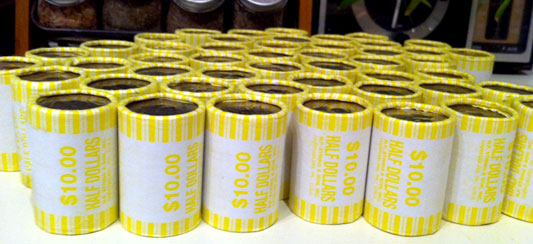 And before, this – when I was trying to be clever: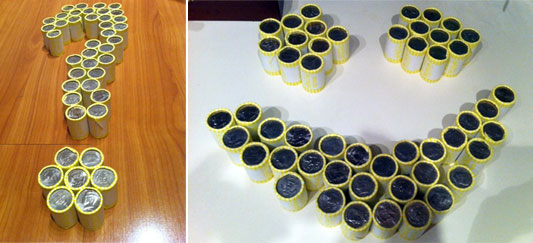 And now we unwrap!
First searching for any halves made before 1970 (those under '64 are mostly silver, while those between '64 and '70 are silver clad), and then concurrently for missing years in my
Kennedy books
. It's safe to say that after this huge undertaking that we'll know once and for all if it's worth pursuing or not ;) At least until the next cockamaimy experiment…
And if you REALLY wanted to, you could order up a box and then sell them individually on eBay too – just like those others are doing! It takes a butt-load of time and patience, but you'd be guaranteed at least 25% in profit as there's no shortage of buyers out there… For what it's worth. (Too much for me)
What do you think of all this? Fun? Stupid? How many do you guess I'll find? I'm 0 for 2 so far from my eBay purchases, but we've got 50 new ones to go now and I'm anxious to start. WISH ME LUCK! :) Praying it doesn't do as poorly as my $100 Lottery Ticket Experiment from back in the day, haha… I'll keep ya updated no matter what. It might take a while though…
UPDATE: Click here to see what I found :)
UPDATE 2: I now have a coin blog! Check out all my latest adventures here: CoinThrill.com
——————-
PS: You know what would be funnier than dropping them into a coin machine later? Buying groceries with them ;) Can you imagine the look on the cashiers' face when you hand over 200+ coins?
Featured savings tip
You already know that banks pay $$$ for the privilege of holding your money…it's called interest. But maybe you didn't know this: that so-called interest can be as little as .01%. If your cash savings aren't sitting in a high interest savings account that earns you at least 1%, you're basically saying "no" to free $$$!
Now, obviously the 1% interest you get with a high interest savings account like the one at Discover bank won't make you rich, but that extra 1% compounded over 30 years can grow into a *big* pile of cash. And if you wanna hit lofty $$$ goals, you should be looking for every edge possible.
Here's another way to look at it: if you leave $50,000 in a regular savings account, that's almost $500 you're just throwing away, each and every year you don't setup a high yield savings account! Will you do 5-10 minutes of work right now to earn an extra $500/year for years to come?
If you said "heck yes", then you can setup your high interest savings account here to start earning 1% on your cash savings.