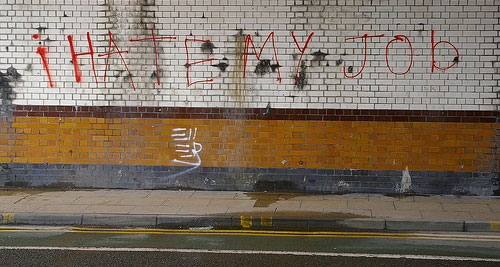 As I was digging through some draft emails this morning, I came across a quote I had saved back in May of 2011 that someone left here on my post about loving your job and saving money. Something we all dream about and (hopefully) strive for, but a goal that's not always in our immediate reach unfortunately :(
I used to think all jobs suck if you're not crazy excited about them, but the truth is they DO play vital roles in helping us survive. Which is the basis of this quote that I'm glad I found again!
"Not everybody can, or wants, to be passionate about their job. To some, a job is just a job. And there's nothing wrong with that."
It came from my friend Krystal over at Give Me Back My Five Bucks, and ever since I saw that it's always been in the back of my head. Sure, THESE days I'm "living the dream" and doing what I love every morning as I'm blogging to y'all, but it hasn't always been the case.
Back then I simply worked for one reason only: Money.

And while now it's a mixture of both business and pleasure, money of course is still an important factor today ;) But have I liked all those 30+ jobs I used to have back in the day? No way… Some were better than others, but usually it was always a means to an end. And once I was out that door for the day, I didn't think twice about work the rest of the evening (a drastic comparison to these days, btw, when it's CONSTANTLY on my mind! One of the major cons to self-employment…).
And I'm betting most people feel the same way too. Work = Money. Nothing more, nothing less. YES, we'd all rather be working at a place where we can pour our hearts into it and feel all warm and fuzzy inside every day, but most times we just power through it all and grab those paychecks at the end. Hoping it gets better and easier over time too ;)
Y'all already know all this of course, but I just felt like it was a good reminder to ourselves today especially since I rarely go down this path on the blog here. I tend to stick to the more positive – You can do anything! – type mentality, but the real world doesn't necessarily always comply with that ;) So if I've ever came off as snobbish or all high-and-mighty or anything, I duly apologize! I think Krystal definitely has it right here – there's nothing wrong with a job simply being just a job, as long as your end goals are being met. Once that goes down the $hitter, AND you happen to hate your job, then of course at that point you probably want to start looking into making a few changes ;)
How many of you are nodding your head right now 'cuz you've got a crappy job in the works? Is there any happiness mixed in there, or is it all purely money? You cool with it so far?
———-
PS: Here's a good "would you rather" question too we once did on this stuff – Dream job or Money?
(Photo Credit: mickyc82)