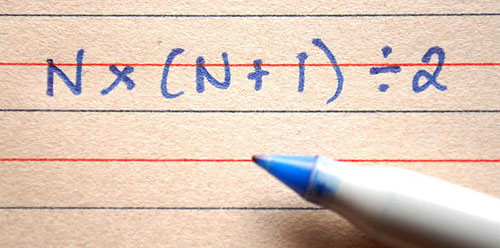 I'll tell you: 66,795. In case you were wondering ;)
Doesn't that seem like WAY more than you would have guessed? I got on this kick yesterday of doing a fun year-long giveaway for you guys ("$1.00 a day which would increase by another one each day for an entire year!) but sadly realized it would bankrupt me. Sorry… Perhaps after I make my first billion?
And before you ask, yes – I started counting it all out until I realized there had to be a much better way. Like asking my wife :) Who then Googled it and found the algebraic equation for us to solve 1-2-3. (My boy Jesse from YNAB sent me this awesome Wiki How article afterwards which is even better – for those interested in figuring it out: Sum the Integers from 1 to N)
But while we're not gonna do an awesome giveaway around this today, I figured we might as well apply this new found knowledge in a different way.
So here are a handful of other (more smarter) uses for this formula:
The 52 Weeks Savings Challenge. Instead of giving it away, SAVE $1.00 a week and then add another with each passing one until you end up with $1,378 at the end of the year! Kinda cool (and easy), as you might recall from earlier in the year when we happened to talk about this…
Try saving a *penny* on top of each other every day. Which would net you a cool $667.95 if you can believe that. (Good idea, Chris Campbell)
Use it to impress your friends who think you're not that bright. (We all have those, believe me)
And lastly, use it to prove to your parents that the internet contains more than just Facebook. I swear they think nothing good comes from the web sometimes…
I'm sure there's a lot more you can do with it (any math majors out there?), but unfortunately my coffee has just ran dry and I'm now thinking on fumes… So on that note I think I'll go before I say something dumb. Have a formulaic day out there!

————
[Photo by WikiHow]
************
Bonus tip: Find a good "balance transfer" offer to help pay off debt faster!
If you've been making payment after payment (on time) and still haven't been able to get your debt under control, snatching up a good balance transfer credit card offer may be the ticket to try. That's where in order to gain your business - credit card companies will let you transfer your existing debt to a new card and let you pay ZERO PERCENT interest on it. Saving you tons every month!
What's the catch? Usually balance transfer cards charge a fee (around 3% of your debt balance) to let you transfer your balance to their 0% interest offer. But we've found a great credit card that will let you do a balance transfer absolutely free. Click here to learn more and see if you qualify!
PS: If you don't trust yourself with another credit card, ignore this! This strategy is to help you get out of debt quicker, not risk adding more to it.