You know that show where those two guys trade up stuff they get for bigger and better items? And try and outdo each other and come away with something ridiculously huge at the end? (I think it's called Barter Kings?) Well, I came across an item last weekend yard sale'ing that prompted me to give the game a shot myself :)
Let me set the scene for you: My mother, sister and I are roll up to a new yard sale together and we see something glittering at the front of the driveway. It seems like something that should have been around circa 1940, but here it is staring us in the face as beautiful as the day it was first made. My sister and I yell out at the exact same time – "That's mine!" – but considering she's 8 months pregnant AND my little sister, I of course let her have first dibs being the gentlemanly guy I am ;)
This is what we saw: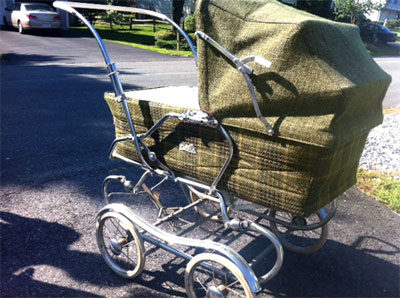 The Cadillac of all baby strollers, baby! Haha… And all three of us circled around it like hawks, making sure no other patrons could get close ;) We then wondered how many dollar bills it would cost us to snatch it right up. $50? $100? I've seen similar rides go well into the hundreds before, so I had no idea how bad this woman wanted to get rid of it or not.
Well, the answer to that was $15 :) And after a few more seconds of exciting bargaining as per the rules of yard saleing, we walked away with it for three dollars even cheaper. (And by "walked away" I mean "went back home to get a different car that could fit this thing inside of it," haha… it's pretty big). My sister eventually decided it would take up way too much space in her house too, and advised I should have some fun with it instead. Which I quickly accepted without hesitation ;)
Now to some people this might look like a clunky piece of crap that should have been left in whatever decade it came from, but to me it has hustler potential all over it. Like I said I've seen strollers like these go for hundreds in certain stores, and those weren't nearly as in good of shape as this one. So I'm sure at the *very* least I could pull off a $75 or $100 profit if I turned around and sold it right away. My mom works part-time at an antique store and I bet if we place it right out front we could create some buzz for them :) After I take it for a few test spins with Baby Money, of course. Ain't no daddy on the block's got one of these bad boys, I can guarantee that!
So now $12.00 in the hole, and we try to upgrade/sell it to something better and see how far we can take it. It would be cool to have some sort of grand goal in the end too like they do on that show or in that book, One Red Paperclip – remember that guy? The kid who started with a single paperclip and traded his way all the way up to a house??
My imagination is currently lacking right now as to what we could shoot for in the end, but maybe you guys have some ideas? What's something awesome you'd like to get your hands on that's somewhat do-able? Or even not do-able? ;) Or maybe we just go with the flow and see where it takes us?
Either way it sounds like a lot of fun. And if anyone wants to join me, it's a good weekend to start! If you live close by I'll even give you my $2 boombox I also snagged up last weekend, haha… It'll make for another awesome starting point :)
************
Bonus tip: Find a good "balance transfer" offer to help pay off debt faster!
If you've been making payment after payment (on time) and still haven't been able to get your debt under control, snatching up a good balance transfer credit card offer may be the ticket to try. That's where in order to gain your business - credit card companies will let you transfer your existing debt to a new card and let you pay ZERO PERCENT interest on it. Saving you tons every month!
What's the catch? Usually balance transfer cards charge a fee (around 3% of your debt balance) to let you transfer your balance to their 0% interest offer. But we've found a great credit card that will let you do a balance transfer absolutely free. Click here to learn more and see if you qualify!
PS: If you don't trust yourself with another credit card, ignore this! This strategy is to help you get out of debt quicker, not risk adding more to it.