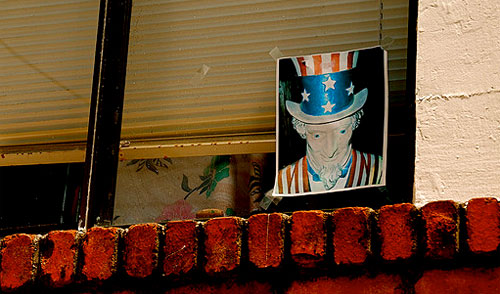 Got an interesting email over the weekend, and thought you'd enjoy reading and chiming in :) Can't say I've heard of this one as a driving force to go out and buy a house! Haha… Though bonus points for the creativity.
Here's what our dear reader sent over:
Hi J$!

My husband has recently secured a nice, but temporary for now, gig that will bring us about $60,000 gross by the end of the year. He's 1099, so there are no taxes taken out of his paychecks. He has been tossing around the idea of buying a house to prevent the tax man from taking as big of a chunk at the end of the year. (Reminded me of the way you bought a house on a whim.) Although he is freelance, his pay has been relatively steady for the past few years.

What do you think about this? Who should I ask for more detail? Is this a terrible idea? Please help, I'm scurred!

Thanks!
This is what I wrote back:
Hey! That move reminds ME of our house-on-a-whim buying experience too ;) Which as you know I would take back in a heart beat if I could! (As long as I could keep everything I learned and how it changes my life for the better, haha…. but that wasn't cuz of the house purchase itself, more on what it *led* to. Like the starting of this blog :))
My gut feeling from your husband's idea is "ACK!" When you buy a house you usually want to do it for a number of other reasons than just taxes :) Like, settling down in one place for a while, building equity instead of paying rent, needing more room for a family, etc etc…. Now if some of those reasons ALSO play a part in his plans, then yeah – totally different story. Especially if it's longer term than just 1 year because when you buy a house they'll be checking in on all this and verifying income in past, present, and future, along with a number of other things like your credit and debts/savings/etc.
There's a lot more to the home buying process that people tend to think, so I'd be careful going down that route unless again you guys have been wanting to for a while outside of just taxes. It's also hard to gauge your situation without knowing the entire financial picture as well ;) If you have no emergency funds or income outside of the $60k that would also throw up some flags to hit the brakes.
Now all that aside, there ARE some other ways to shelter some of that tax money for sure. My favorites being to plunk down $5,500 to max out a Roth IRA for *each* of you (so, a total of $11,000 invested for the 2013 year, and maybe even another $11,000 for the 2014 year since the gig will pay into next year too?), and then the other being to pump up your 401(k) contributions if either of you have that option. All that money in either of those accounts will grow tax free until you're old and gray and needing to take it out :) (UPDATE: I'd also look into an SEP Ira as well, as a commenter pointed out below. I totally forgot about that and I use one myself as someone who's self-employed! D'uh.)
Another option could be to finally start that small business idea one of you have always wanted to do, since you can write off a lot of those expenses, but that may even be more hardcore than buying a house to not pay taxes, haha… Especially if you've never ran/owned a small biz before.
Regarding "who to ask" for more details: If you're interested in checking out the home buying process more and what that all entails, I'd check with a local realtor. Especially if your family or friends know of someone they like and trust as they'll be able to tell you all about the ins and the outs with ownership (and hopefully not skew you one way or the other, so def. try to get a recommendation!).
On the subject of not paying as much taxes, I'd have a chat with a financial adviser or a CPA. Both of those could shed more light on that type of stuff – and again good to get through a friend or family member that trusts them.
Hope this helps!
What do you guys think? Any gut feelings one way or the other? Anything I left out? All I know is I'm damn glad I got all this craziness out of my system years ago so I don't have to go through it all again :) Home ownership is no joke, you really gotta think hard before jumping in!
————
[Photo by karendesuyo]
Featured savings tip
You already know that banks pay $$$ for the privilege of holding your money…it's called interest. But maybe you didn't know this: that so-called interest can be as little as .01%. If your cash savings aren't sitting in a high interest savings account that earns you at least 1%, you're basically saying "no" to free $$$!
Now, obviously the 1% interest you get with a high interest savings account like the one at Discover bank won't make you rich, but that extra 1% compounded over 30 years can grow into a *big* pile of cash. And if you wanna hit lofty $$$ goals, you should be looking for every edge possible.
Here's another way to look at it: if you leave $50,000 in a regular savings account, that's almost $500 you're just throwing away, each and every year you don't setup a high yield savings account! Will you do 5-10 minutes of work right now to earn an extra $500/year for years to come?
If you said "heck yes", then you can setup your high interest savings account here to start earning 1% on your cash savings.