There's a new blog that I've been OBSESSED with this week called RichHabits.net (you see what I did there? ;)). It's written by best selling author, Tom Corley, who has published a book (obviously) named the same: Rich Habits.
Now every dang time I sit down to blog about something he just put out, he goes and writes another amazing post and I go dizzy trying to figure out which one I want to share with you guys!
So instead of focusing on just one main topic for today, I thought I'd freakin' just mush all of 'em together and then you can ponder the portions you like the most yourself ;) And I'm going to do that right now before he puts out something new again!! Haha…
It all started with this tweet:
Article #1: Dad's savings advice to his child
Here Tom gives financial advice he wishes someone had given HIM when he was 23 – the same age as his son right now, check it out:
Live below your means – Make sure you set aside 20% of every paycheck and live off 80%.
Don't spend more than 25% of your monthly net pay on housing. Whether you own or rent.
Don't spend more than 10% of your monthly net pay on entertainment. We're Irish, so by entertainment I mean bars.
Don't spend more than 5% of your monthly net pay on auto loans, and never lease. Leasing is one of those Poverty Habits you've heard me talk about over the years.
Stay away from accumulating credit card debt. If you are doing this it means you are living beyond your means and you need to cut back on something.
Always invest your savings prudently. Never gamble your savings on get rich quick schemes. There's no such thing.
Max out your contributions to the company retirement plan. If the company matches your contributions, great. That's free money. Always take free money when you can get it.
Know what you spend every month. Create a monthly budget and track what you spend.
Pretty good stuff so far, right? We've heard a lot of this before – minus the % breakdowns which are the parts I like – solid, actionable advice – but it's always good to be reminded of the rest too.
Article #2: What the rich do every day that the poor don't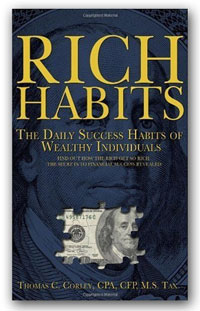 Usually these types of posts are based on theories and ways of thinking, etc, which helps this list stand out even more. Because again – they're ACTIONABLE items. Stuff any one of us can take up at any given point in our lives, and apparently what the rich already do!
[FYI – all of these findings come from Tom's research over 5 years when working on his book, Rich Habits. And no, this is not any kind of sponsored post or book review/etc/etc, haha… I really am just obsessed with it this week ;)]
6% of wealthy say what's on their mind vs. 69% for poor.
79% of wealthy network 5 hours or more each month vs. 16% for poor.
80% of wealthy are focused on accomplishing some single goal. Only 12% of the poor do this.
88% of wealthy read 30 minutes or more each day for education or career reasons vs 2% for poor.
76% of wealthy exercise aerobically 4 days a week. 23% of poor do this.
81% of wealthy maintain a to-do list vs. 19% for poor.
67% of wealthy write down their goals vs. 17% for poor
44% of wealthy wake up 3 hours before work starts vs. 3% for poor.
6% of wealthy watch reality TV vs. 78% for poor.
You can read the other 12 of them here: So what do the rich do every day that the poor don't do?
Article #3: Why you should never quit on a dream
This one just took the cake for me. Absolutely astonishing that anyone would put THAT much time and effort into their dreams after failing over and over and over and over again. It's almost unbelievable, actually. But he kept at it, and now has people like me raving about him and sharing his message even farther. I love it.
This all comes from Why you should never quit on a dream:
Tonight, November 6, 2013, CBS will air it's interview about me and my book Rich Habits. The interview will air across the entire United States and portions of Canada. It will be part of the CBS Nightly News segment that airs at 11pm.  This is my first nationwide network T.V. interview. It took 9 years for me to get here. And I almost gave up in 2011.
Here's why:
I sent Query Letters to 149 agents who specialized in Self-Help. Not one agent was interested.
I sent Query Letters to nearly 200 publishers. One responded yes.
I mailed out 1,000 books to newspaper and magazine book review editors.
I followed up with phone calls to those same book review editors. No one returned my calls. And not one reviewed my book.
I spoke to over 2,000 High School and college students, teachers and parents about the Rich Habits at schools across the country and gave as many books away. This took 18 months. I was hoping this would create some buzz. It didn't.
I created a scholarship program to elicit interest in Rich Habits. I offered 3 scholarships totaling $5,000. The $5,000 was all the profits I had made from book sales. I sent out 2,000 letters to guidance counselors in NJ and then followed up with each one of them, by phone, over a 2 month period. I received 2 incomplete scholarship applications.
I spent 18 months calling over 2,000 radio stations across the nation. I got 150 radio interviews. I sold very few books.
I spent 1 year emailing over 2,500 newspaper editors about Rich Habits.
I Tweeted for 5 years to people in the media about Rich Habits. To date I have 16,418 Tweets.
In 2013, one person, Farnoosh Torabi [My friend!!!!] of Yahoo Financially Fit, Tweeted me that she would like to interview me.
On July 16, 2013 Yahoo Finance runs the interview. It goes viral with over 2 million hits.
Dave Ramsey sees the interview and spends 3 days talking about Rich Habits on his radio show.
On July 19, 2013 I am interviewed by Dave Ramsey for 30 minutes.
Rich Habits goes from #35,650 on Amazon to #1 in Personal Finance for 8 straight days. Rich Habits also hits #10, #12 & #14 during the same week on Amazon. On Amazon, Rich Habits was ranked ahead of J.K. Rowling and the #1 New York Times Bestseller, Lean In. I achieve #1 Bestseller status, Best Book of the Month and Most Wished for Book of the Month on Amazon.
I receive an email from CBS during late July, 2013. They wanted to interview me on my book, Rich Habits. I drove to Boston for the interview in October 2013.
On November 6th, 2013 CBS airs the interview nationwide.
DANGGGG! And I took out a handful of bullet points too. The paragraph that follows is my favorite:
If you were to add up all of the failures I've had, it would number close to 30,000 over the years. 30,000 failed attempts and four successes (NJ Star Ledger, Yahoo, Dave Ramsey and CBS). 4 for 30,000. Yet, I'm doing it. I'm succeeding. I'm making it happen.
Pretty incredible. I don't know anything about the publishing world, but obviously it's not easy. And this guy is a beast. You can read the entire story, and bullet points, here.
Can you tell why I'm so obsessed? :) This guy inspires the pants off of me. And I hope this resonates with you all too. The finance tips, the daily wealthy habits, and the pursuit of your dream. It's not easy stuff, but it's DO-ABLE!!! And I hope this motivates you just a tad bit more to continue on.
Have a blessed weekend, everyone. Love ya'll.

Featured savings tip
You already know that banks pay $$$ for the privilege of holding your money…it's called interest. But maybe you didn't know this: that so-called interest can be as little as .01%. If your cash savings aren't sitting in a high interest savings account that earns you at least 1%, you're basically saying "no" to free $$$!
Now, obviously the 1% interest you get with a high interest savings account like the one at Discover bank won't make you rich, but that extra 1% compounded over 30 years can grow into a *big* pile of cash. And if you wanna hit lofty $$$ goals, you should be looking for every edge possible.
Here's another way to look at it: if you leave $50,000 in a regular savings account, that's almost $500 you're just throwing away, each and every year you don't setup a high yield savings account! Will you do 5-10 minutes of work right now to earn an extra $500/year for years to come?
If you said "heck yes", then you can setup your high interest savings account here to start earning 1% on your cash savings.