Hi guys! I have a super duper CRAZZYYY exciting giveaway to present to you today :) Which would make an excellent gift for either yourself, or a fellow loved one/coin collector this holiday season. Are you ready for it??? You haven't looked at the title yet,  have you? ;)
WE'RE GIVING AWAY A SOLID GOLD COIN!!!! Huzzah!!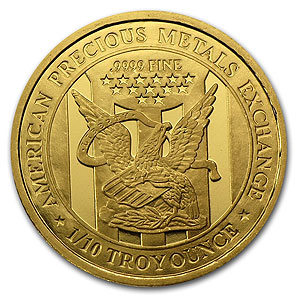 [This 1/10 oz APMEX Gold Round .9999 Fine coin, to be exact]
Worth approximately $120-$140 – depending on the value of gold on any given day… (and not to be confused with a Bitcoin). You don't have to be a coin lover to appreciate it either as gold is GOLD, baby! You can literally cash it in at any coin store or even most jewelry centers if you don't like holding onto valuable stuff ;)
Meet Today's Partner in Crime:
Since I'm no coin maker myself, let me intro you to our partner here who's offering up this sexy specimen to be given away: Apmex.com – one of the world's largest, and most trusted, sources for precious metals. And where I personally recommend people to go when they want to pick up some silver/gold rounds! In fact, this giveaway came OUT of me recommending them on Twitter to someone the other week, so hooray for karma :)
Here are some of the goodies Apmex sells, for all you coin/bullion lovers out there:
Silver coins, rounds, bars
Gold coins, rounds, bars
Platinum stuff (worth more than gold!)
Palladium stuff (worth between silver and gold)
Pre-1933 coins
And even $500 and $1,000 bills
They also have a great Holiday Gift Guide too, for those interested.
How to Win this Sexy Gold Coin!
Now for the part y'all have been waiting for – how to win this 1/10 oz gold coin. The first step – GET EXCITED! :) And then….
Go to Apmex.com
Tell us a product you like there. It could be something you'd love to have yourself, to give to someone, or just cuz it's awesome looking – whatev. Just click over and find something, and then tell us what it is in the comments below.
That's it!And if you'd like some extra credit (and an extra entry!), follow them on Facebook -or- Twitter too. So you can get either 1 entry for telling us your favorite item at Apmex (mandatory), or you can get *two* by also following them on FB or Twitter. Totally up to you – just make sure to leave your extra entry into an extra comment below so you get counted okay…
This giveaway will run for the next 12 days,and end at midnight on Tuesday, December 17th. Open to both U.S. and Canadian residents, 18+, and we will use Random.org to select the winner.
Good luck! And thanks again Apmex!
************
Bonus tip: Find a good "balance transfer" offer to help pay off debt faster!
If you've been making payment after payment (on time) and still haven't been able to get your debt under control, snatching up a good balance transfer credit card offer may be the ticket to try. That's where in order to gain your business - credit card companies will let you transfer your existing debt to a new card and let you pay ZERO PERCENT interest on it. Saving you tons every month!
What's the catch? Usually balance transfer cards charge a fee (around 3% of your debt balance) to let you transfer your balance to their 0% interest offer. But we've found a great credit card that will let you do a balance transfer absolutely free. Click here to learn more and see if you qualify!
PS: If you don't trust yourself with another credit card, ignore this! This strategy is to help you get out of debt quicker, not risk adding more to it.