How will you live rich, while spending smartly in 2014?
If you have an answer, I have the perfect giveaway for you :) But only if you like $5,000 in cash and/or a financial makeover (not to be confused with "make out") with David Bach. You know, the guy who wrote The Automatic Millionaire.
And if that's not convincing enough I don't know what drugs you're on, there are 5 runner up awards of $1,000 each PLUS a one-on-one consultation from a not-as-famous-or-at-all money coach. Yum!
And if THAT'S not convincing enough boy, what does a guy have to do around here, yours truly will be one of the judges reviewing the entries. Not that I can play favorites of course, but it sure would be cool if this little ol' blog produced the grand prize winner over those others participating.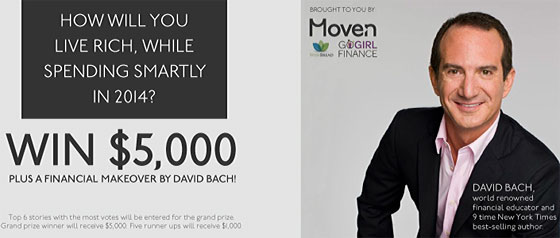 So what are you waiting for? Gather up your most authentic, passionate, and unique answers (Hint: that's what we'll be judging!) and then submit 'em on over. It's all via Facebook, and should take you approximately 2.3 seconds to do. Not counting the time for you to actually come up with it ;)
[ENTER HERE: Facebook]
Entry and voting ends January 31st. Big thanks to Moven (A debit account that tracks your money for you) for putting on the giveaway, and also for including me in the fun. It's very Moven-ating! Get it? Moven-ating! Instead of Motivating? Sigh…
May you live sexy rich lives whether you win this or not!
———
UPDATE: Click here to find out who the lucky winner is – was it you?? :)
************
Bonus tip: Find a good "balance transfer" offer to help pay off debt faster!
If you've been making payment after payment (on time) and still haven't been able to get your debt under control, snatching up a good balance transfer credit card offer may be the ticket to try. That's where in order to gain your business - credit card companies will let you transfer your existing debt to a new card and let you pay ZERO PERCENT interest on it. Saving you tons every month!
What's the catch? Usually balance transfer cards charge a fee (around 3% of your debt balance) to let you transfer your balance to their 0% interest offer. But we've found a great credit card that will let you do a balance transfer absolutely free. Click here to learn more and see if you qualify!
PS: If you don't trust yourself with another credit card, ignore this! This strategy is to help you get out of debt quicker, not risk adding more to it.