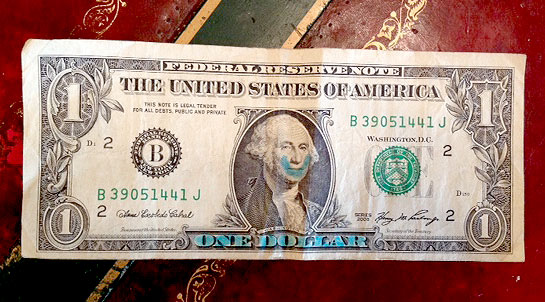 [This article was written in Jan of 2014, but will be updated with awesome new challenges as I come across new ones… They never expire, so pick one out and get stated TODAY!]
Hey guys! Just participated in a cool guidebook on new year's resolutions a friend recently launched, and thought I'd share some of my savings challenges I included in it. Mixed with some other ideas too.
You know, in case you're still looking for some resolutions despite all 10,000 of us bloggers posting about them this week ;)
Here they are:
#1) Track Every Single Expense For the Next 30 Days
That may sound funny as you're focusing on money going out rather than coming in, but I guarantee you after the first few days you'll start double-thinking all those purchases you're about to make. And by the end of the 30 days you'll have saved a lot more than you would have without tracking! (Plus, a bonus is you'll get a much better understanding of your money the longer you keep it up, which will help you further than most anything else you can do!)
#2) The "No Spend" Challenge
Similar to idea #1, the deal here is to consciously get you to pay attention to each and every transaction you're making. With the "no spend" challenge, you're only allowed to pay for things that are necessities (rent, mortgage, utilities, etc), and your goal is to stay away from anything out side of that such as eating out or shopping, or even going to the movies. Depriving yourself of these luxuries will not only give you a better appreciation for your money/life, but it'll save you a ton in the process!
[Editor's note: This is the one that changed my financial life. I first tried it back in early 2008, and have literally saved $300+ a month since! It got me to realize how bad my shopping/mall habits were (I always went when bored), and rarely have the urge to go anymore :)]
#3) The 52 Weeks Challenge
This one is pretty popular with people because it only requires you to put some cash in a jar once a week – no other work required! All you do is put $1.00 in a jar on Monday of week #1, and then up it by another dollar each consecutive week. So, for week #1 it's $1.00, then week #2 it's $2.00, then week number 3 it's $3.00 and on and on until you reach the 52nd one (which you'd have placed $52 aside). Doing this for 52 straight weeks will net you a whopping $1,378 at the end of the year! Pretty cool, right? And, super easy.
[Editor's Note: Jeff over at Good Financial Cents is currently rounding up people to participate in this. If interested, check out his post. Or, if you're having second doubts, check out this one by Carrie who says you *shouldn't* do this challenge! And what you should do instead ;)]
#4) The Spare Change/Dollars Challenge.
This one's also a fun and easy one. All you do is throw your spare change at the end of every night into a jar and watch it pile up! Some days you'll have a ton of it to add to the pot, while others nothing at all (especially if you're doing challenge #2! :)). And if you don't find that quite challenging enough, up it a level and put all *single dollar bills* into the jar instead every night. By the end of the year you will have one plump bucket!
[Editor's note: Kinda-sorta-but-not-really related, you could also try my $2.00 bill savings trick :)]
#5) Set up a new savings acct and automate a monthly transfer
This is the easiest challenge of them all as it only requires you to do a couple of steps once, and then step back and let the system work for you! Step #1 is to create a new savings account at any bank of your choice – preferably one outside of your current bank so there's less temptation to pull from it (in fact, don't even set up online access OR get a debit card – nix all temptation whatsoever!). Step #2 is to set up an automatic transfer to it once a month. It could be $25, $50, or even $100. Whatever you can comfortably squirrel away without worrying about anything. And it can be easily done by logging into your current bank account to set up the transfer, or by contacting your human resources at work and asking them to divert it through your paycheck.
Whichever the method, it all goes to siphoning away money without any extra thoughts on your behalf. And the longer you leave it be, the bigger your stash will get!
#6) *BONUS* The 365 "Less Things" Challenge

Not necessarily a "savings" challenge per se, but it will definitely help with your mindset if one of your goals this new year is to de-clutter and/or keep things simple. The blogger behind this one (Colleen) started an entire site around it with the goal of getting rid of unutilised items in her house to de-clutter every wardrobe, bench, shelf, under bed, pantry and garage space by giving away, throwing away or selling one item every day for twelve whole months. If you stick with it, it could do wonders :)
And if you need some help deciding *what* to give away, ask yourself this:
Would you go out right NOW and buy it all over again? If the answer's yes, hold on to it! If it's a no, throw it in the sell/donate pile.
Here are some other great savings ideas you could try too:
The New Year's Resolutions Guidebook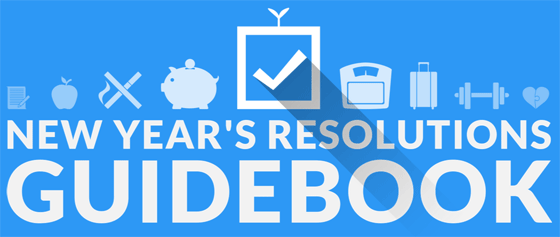 If you want some extra motivation this year, be sure to check out that New Year's Resolutions Guidebook. Here are the chapter breakdowns in case any of them interest you (it's totally free, btw):
The Hidden Costs of Making Resolutions
Your Life At 10,000 Feet
Choose Your Resolutions
SMART, Small, and Challenging Goals
Interview With Charles Duhigg (Author of The Power of Habit)
4 More Things To Include In Your Plan
Interview With David Allen (Author of Getting Things Done)
Clear Your Mind
Cut Out Distractions
Get It Done <— Where I contribute
Go Easy On Yourself
GOOD LUCK!! A lot of different ideas here, but really the only ones that matter are the ones you *take action* on ;) So hopefully you do – whether it's your own, or one or two from here.
I'll be checking up on you later!
————
PS: If you like that piece of artwork up there, you should see my business card.
PPS: Yes, my desk is the color of Christmas.
[No Clutter graphic by Sean MacEntee]
Featured savings tip
You already know that banks pay $$$ for the privilege of holding your money…it's called interest. But maybe you didn't know this: that so-called interest can be as little as .01%. If your cash savings aren't sitting in a high interest savings account that earns you at least 1%, you're basically saying "no" to free $$$!
Now, obviously the 1% interest you get with a high interest savings account like the one at Discover bank won't make you rich, but that extra 1% compounded over 30 years can grow into a *big* pile of cash. And if you wanna hit lofty $$$ goals, you should be looking for every edge possible.
Here's another way to look at it: if you leave $50,000 in a regular savings account, that's almost $500 you're just throwing away, each and every year you don't setup a high yield savings account! Will you do 5-10 minutes of work right now to earn an extra $500/year for years to come?
If you said "heck yes", then you can setup your high interest savings account here to start earning 1% on your cash savings.