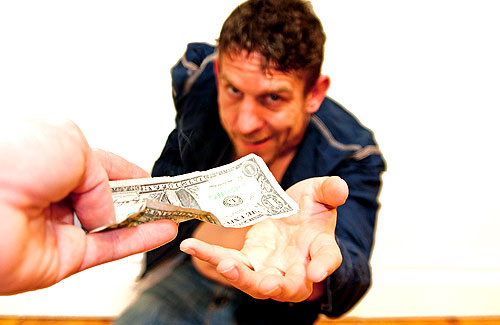 I read an awesome article by my man Zee the other day, and I wanted to share it with y'all as well as another one I use myself it reminded me of. So today you get a 2-for-1 special – it's your lucky day! (Perhaps you should run out and buy a lottery ticket next? ;))
Kick-ass tip #1…
The "Stranger" Test
This one comes from Zee who totally made up the name for it, even though we've both heard about it before and can't recall where? I think his name for it fits perfectly though, and hopefully it'll be strange enough so that none of you rascals easily forget it ;)
Here it is in a nutshell:
When you are thinking of purchasing something, imagine a stranger holding the item you are thinking of buying in one hand, and the cash equivalent in the other. Which one would you take?"
I like this one a LOT because it gets you to stop for a hot second before handing over your cold hard cash. People almost always prefer the cash dangling in front of you (even from a weirdo stranger) than the "thing" in question anyways. They just don't stop long enough to really mull it over or put it in this same "things vs cash" perspective.
Of course sometimes you gotta buy what you gotta buy regardless of your desires (food, shelter, underwear), but for non-essentials – aka the "wants" – this is a good trick to keep in your back pocket. The few times I remember thinking along these same lines myself, I had an answer in seconds. And is much easier than the ol' "angel vs devil" rigmarole on your shoulders duking it out ;)
Zee then went on to clarify why he named it the "Stranger" test, which I find even more hilarious:
"It's very important to use a stranger in this scenario. If you imagine your shopaholic friend holding out those new sneakers they will probably try to sway you one way or another. Or if you imagine a tree or an alien offering you those things you'll probably be like "oh shit, a talking tree. I have to get a video of this on my phone."… I guess you could just pretend each option is sitting on a chair, but the "chair test" doesn't sound as good…"
So there you have it – the Stranger Test :)
The "Urgency" Test
This one comes courtesy of yours truly, and is somewhat similar to our "only buy what you really love!" concept mentioned here before. Only this relates more directly to shopping, and especially clothes shopping (or shoes, accessories, hats, etc).
It goes like this:
"Any time you're debating on whether to buy X, Y, or Z, ask yourself this: "Would I wear this out of the dressing room right now if I could?" If the answer is yes, buy it (as long as the cost is OK, of course). If not, or you hesitate, put it down and run."
There are exceptions to this rule, like if you're trying out bathing suits in the winter for some reason, or perhaps a nice suit in the dead of Summer, but overall it's a great question to ask.
Any time you're shopping for something new to wear, you want to be SUPER excited to put it on and show it off. IF you're teetering on whether you like it or not, chances are you don't (or else you'd want to leave that dressing room with it on ASAP!). And getting into this line of thought consistently is great because it'll help you "things to wear later" pile ("AKA never wear" pile) dwindle, while beefing up your "I'm feeling hot and sexy today, look at me!" clothes pile :)
That's right, I'm now giving away free fashion advice – someone stop me!
This could work in other areas as well:
Buying books (would you want to stop and read this right this second?)
Picking up movies (do you just want to rush home and watch it right away?)
Buying art (Would I swap out painting X for this one as soon as I can?)
Picking up a girlfriend? (would I rush to show her off to my friends or family? ;))
If there's an ounce of hesitation, odds are it's probably not worth your money (or your time). Though of course in some cases (like the girlfriend one) it's sometimes worth being open and taking in new experiences before shutting the door so quickly. So you do have to be aware of the consequences. You don't want to stop broadening your horizons of course. Something my aunt calls "culturing yourself" ;)
But there you have it. Two tricks with the same bottom line: getting you to pause and think for a few seconds before automatically handing over your wallet. They may not work in every situation, but overall they're pretty kick-ass habits to get into.
Try one out this week and let us know what you think!
——-
[Photo cred: David Goehring]
Featured savings tip
You already know that banks pay $$$ for the privilege of holding your money…it's called interest. But maybe you didn't know this: that so-called interest can be as little as .01%. If your cash savings aren't sitting in a high interest savings account that earns you at least 1%, you're basically saying "no" to free $$$!
Now, obviously the 1% interest you get with a high interest savings account like the one at Discover bank won't make you rich, but that extra 1% compounded over 30 years can grow into a *big* pile of cash. And if you wanna hit lofty $$$ goals, you should be looking for every edge possible.
Here's another way to look at it: if you leave $50,000 in a regular savings account, that's almost $500 you're just throwing away, each and every year you don't setup a high yield savings account! Will you do 5-10 minutes of work right now to earn an extra $500/year for years to come?
If you said "heck yes", then you can setup your high interest savings account here to start earning 1% on your cash savings.