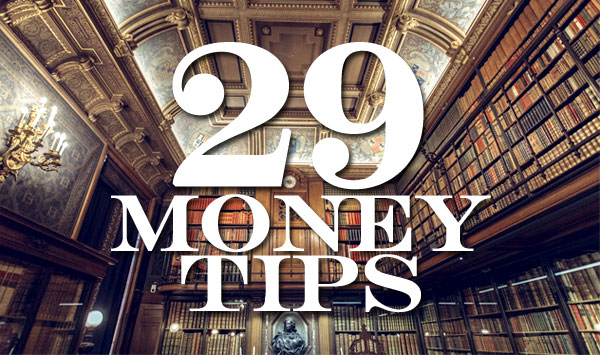 "Simply making decisions, one after another, can be a form of art." – John Gruber
So the other day I was feeling bored and pretty unproductive, and rather than waste even more of my time I decided to shoot a note to my online friends and see if I could learn something new. What they came back with was pretty juicy, so I thought I'd turn it into a blog post today instead of hoarding all the gems for myself :)
Here's what I asked them:
What's a quick trick you do with money? To save, invest, or pay down debt, etc?
And here were my favorite responses below – hope you find something to try!
Quick Tips on Saving Money
And one of my all-time favorite pieces of advice, "When you "save" money, be sure it actually goes in the bank account and doesn't just disappear into general spending." Amen, IPickUpPennies.net!
Quick Tips on Paying Off Debt
For other debt awesomeness, check out this tracker Jon put together tracking all the (significant!) amounts of debt that bloggers have killed so far. Pretty motivating! –> Debt Payoff All Stars
Quick Tips on Investing
Other Great Money Tips
Whatcha think? Any resonate with you? Gonna try any? Rocking some of your own?
If you're looking for even more tips (because, let's be honest, y'all are bad a$$es and probably do at least 90% of these already, right? :)) here are handfuls of other great ones for your perusal:
Happy $$$$, y'all!
*******
PS: Not following me on Twitter (@BudgetsAreSexy) or Facebook (Facebook.com/BudgetsAreSexy) yet? Come on over and extend the festivities!
Featured savings tip
You already know that banks pay $$$ for the privilege of holding your money…it's called interest. But maybe you didn't know this: that so-called interest can be as little as .01%. If your cash savings aren't sitting in a high interest savings account that earns you at least 1%, you're basically saying "no" to free $$$!
Now, obviously the 1% interest you get with a high interest savings account like the one at Discover bank won't make you rich, but that extra 1% compounded over 30 years can grow into a *big* pile of cash. And if you wanna hit lofty $$$ goals, you should be looking for every edge possible.
Here's another way to look at it: if you leave $50,000 in a regular savings account, that's almost $500 you're just throwing away, each and every year you don't setup a high yield savings account! Will you do 5-10 minutes of work right now to earn an extra $500/year for years to come?
If you said "heck yes", then you can setup your high interest savings account here to start earning 1% on your cash savings.