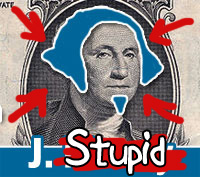 I used my CREDIT CARD instead of my DEBIT CARD at the ATM last week! THREE different times!
Grrrrrrrr…. The stupid cards look so much alike :(  I don't even have my debit card IN my money clip anymore! (I rarely take out cash due to my stupid work situation…) So that means that:
a) Each transaction was then considered to be a "Cash Advance" – granting me $15+ in total fees just for swiping them!
and b) I will now get charged, per day, on the "balance" of this money until paid off completely. Which means even if I do that today (which I'm going to do), and it registers tomorrow or the next day, I'm already looking at 10 total days worth of interest. Not fun :(  Especially since I already have that $1,800 balance on there from the past month which I'm already working on paying off (was just my luck that I used that SAME card & not either of my other 2 which carry $0.00 balances)
How to prevent this Credit vs. Debit ATM nonsense…
When I tweeted/facebooked about this I got a couple of really good ideas on how to prevent this in the future.  Maybe this will help you not to be an idiot too?
Keep different PINS. If you keep a different pin # for each card, you will catch yourself making this mistake when the ATM denies you. And if you still don't get it, it doesn't matter since it won't give you the money anyways!  (thx for the tip Matt!)
Label each card with a Sharpie. If it's a "house" card, write House on the front of it.  If it's for gas, write GAS, etc.  The cards will still work and it'll be another reminder so you don't goof it up. (big thx to Jessica for that one. And Jen says nail polish works even better! (doesn't wipe off))
Moral of the story?  Pay Attention! And then fix your wrongs ASAP before you cost yourself even more money down the road.
// End Rant
************
Bonus tip: Find a good "balance transfer" offer to help pay off debt faster!
If you've been making payment after payment (on time) and still haven't been able to get your debt under control, snatching up a good balance transfer credit card offer may be the ticket to try. That's where in order to gain your business - credit card companies will let you transfer your existing debt to a new card and let you pay ZERO PERCENT interest on it. Saving you tons every month!
What's the catch? Usually balance transfer cards charge a fee (around 3% of your debt balance) to let you transfer your balance to their 0% interest offer. But we've found a great credit card that will let you do a balance transfer absolutely free. Click here to learn more and see if you qualify!
PS: If you don't trust yourself with another credit card, ignore this! This strategy is to help you get out of debt quicker, not risk adding more to it.