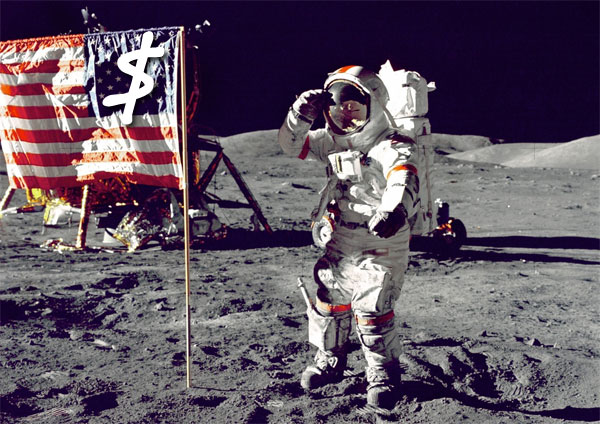 I know what you're thinking right now,
"Credit card debt??? I had no idea! I thought medical debt – or at least student loans – would be the most embarrassing? I mean, who likes telling people they went to college??"
I'm sorry to say though, friends, it's true… A whole poll was commissioned on it and everything, and we now know for certain that people are most embarrassed by their credit card debt than any other kinds.
Glad we got that solved! ;)
In other non-shocking news: did you know we landed on the moon?? I swear, sometimes I feel like companies would do just about anything to get in the press… I'm going to put out a report after this that most people would like to have a free million dollars in cash, and if at possible, also lose an extra 10 pounds while they're at it. We'll hit the NY Times in no time!
(You need to get on this, HowDoIMoney.com)
In all seriousness though, yes – of course it sucks having credit card debt and you don't want anyone knowing about it. But if you ask me, what's more embarrassing is actually NOT DOING ANYTHING about it. It's one thing to have some debts, but a whole other if you pretend they don't exist. I don't care if the average American has $15,355 in credit cards or not – you don't want to be "normal" here.
So if you're new to this stuff, or just need a quick kick in the pants to get jump started again, here are your 6-step marching orders. No research required…
(And this applies to any areas of finance, for that matter)
Absolve yourself of all past wrong-doings. The big ones, the small ones – the ones you really hope don't ever get out into the world – all of them.
Commit to a fresh start TODAY!
Put all your finances into one single spreadsheet. It doesn't matter how you do it, but you need to see everything in ONE spot so you know exactly what you're working with. (No cheating)
Do 1 thing this weekend that improves your situation.
Do 1 thing, and only 1 thing, every week going forward. Keep them achievable.
Continue living your life as-is :)
You do all that and not only will your finances start improving like mad, but you'll stop feeling sorry for yourself, build your confidence back, feel like you're finally doing something about it, and eventually change your ways naturally as you realize just how easy it is to get the ball rolling over time.
And that's really the key to it at the end of the day: harnessing *time* to your advantage.
You add up all those dozens of actions/payments/investments directed towards a single goal, and the gift you give to your future self will be downright amazing. It's all about using time to accelerate things.
So yes – credit card debt is lame. We all know that. But as an unknown astronaut once said, "one small step for man, one giant leap for your wallet." The time to commit is TODAY!
********
PS: A recommended action item to try? Listening to the best new podcast out there: M.O.N.E.Y. … Word on the street is that it'll give you a total "fingasm." (True testimonial)
************
Bonus tip: Find a good "balance transfer" offer to help pay off debt faster!
If you've been making payment after payment (on time) and still haven't been able to get your debt under control, snatching up a good balance transfer credit card offer may be the ticket to try. That's where in order to gain your business - credit card companies will let you transfer your existing debt to a new card and let you pay ZERO PERCENT interest on it. Saving you tons every month!
What's the catch? Usually balance transfer cards charge a fee (around 3% of your debt balance) to let you transfer your balance to their 0% interest offer. But we've found a great credit card that will let you do a balance transfer absolutely free. Click here to learn more and see if you qualify!
PS: If you don't trust yourself with another credit card, ignore this! This strategy is to help you get out of debt quicker, not risk adding more to it.