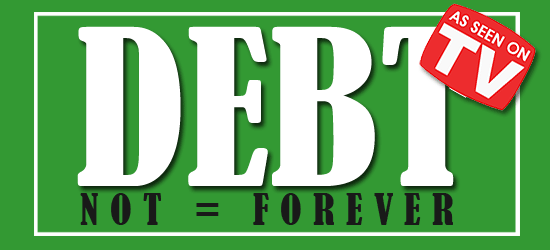 Up to your eyeballs in debt?
Hate your credit cards?
Stressed from all those nasty collection calls?
Worry no more, friends…
Introducing: The "Debt Is Not Forever" Affirmation!
The most powerful solution in killing your dream killers and fighting your debt fights who fight you on debt while killing your dreams! (What?).  No more tossing and turning at night when you've got Debt is Not Forever. Just shout it to the world 3x before bed, and 3x before logging onto BudgetsAreSexy each morning, and immediately feel the rays of hope again! It's not just a saying, it's a way of life!
And with just 3 easy payments of $0.00 each, it can all be yours today. Act now, and we'll also throw in the "Gain Control of Your Life Again, Man – What Are You Waiting For?" companion line absolutely free! Sure knowing debt is temporary may feel good, but without taking action what does it matter? "Gain Control of Your Life Again, Man – What Are You Waiting For?" is the perfect reminder to get out there and finally do something about it!
But wait… There's more!
Act now (for real) and you'll not only get the award winning "Debt is Not Forever" solution AND it's "Gain Control of Your Life Again, Man – What Are You Waiting For?" counterpart, but we'll ALSO throw in the "Hurry Up and Meet Me on The Beach You Bastard – Your Beer's Getting Warm!" prompt too! Because nothing motivates you more than seeing all your friends living it up on Facebook without any care in the world.*
Pick up that phone and order now. Supplies are unlimited, not unlike your freedom.
——
Brought to you by J. Money and The #DebtIsNotForever Movement. If you're not realizing it by now, you have all the power to make debt temporary. Will you own it?

*Don't let it fool you, it's a farce.

************
Bonus tip: Find a good "balance transfer" offer to help pay off debt faster!
If you've been making payment after payment (on time) and still haven't been able to get your debt under control, snatching up a good balance transfer credit card offer may be the ticket to try. That's where in order to gain your business - credit card companies will let you transfer your existing debt to a new card and let you pay ZERO PERCENT interest on it. Saving you tons every month!
What's the catch? Usually balance transfer cards charge a fee (around 3% of your debt balance) to let you transfer your balance to their 0% interest offer. But we've found a great credit card that will let you do a balance transfer absolutely free. Click here to learn more and see if you qualify!
PS: If you don't trust yourself with another credit card, ignore this! This strategy is to help you get out of debt quicker, not risk adding more to it.