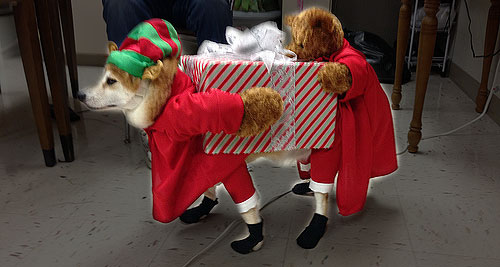 Here's a short post/tip for you today for all those money nerds out there still soaking in this stuff as the holidays loom ;) Merry Christmas Eve everyone!
This question came into my inbox this morning:
Yo J,

I have some credit card / banking "rewards." We're not talking major cash here**. $70 here, $25 dollars there.

Should I use it for something practical that I would be spending my money on anyway, like at Home Depot or CVS, or can I treat myself to some useless and fun items from say, a Sephora or West Elm?

Gracias amigo! Happy holidays!
-S.

**This is why those banking reward ads with someone hiking in the Himalayas or buying a designer dress "on their rewards" pisses me off, you'd have to spend a ton of $$$ to get that in reality!
Haha, right? To be honest it's hard to advise on anything since I don't know you and/or your total financial situation, but more often than not I say to go have fun with it and treat yourself to something nice for putting in all that hard work you've been doing lately. Assuming you HAVE been behaving yourself, of course ;) If you've been slacking on your finances and/or career and/or just in life in general, then my vote is to use it wisely and get yourself back on track again!
You get a "pick your own ending" here today :) Happy holidays!
-J$
PS: Another thing you could do is save up all those rewards throughout the year too, and then use them to knock out all your Christmas presents at the end. That way you don't get stuck with the 6% of those who stress out hardcore during the holidays! A lot of our blog readers here do that, and I think it's a fabulous idea. Nothing like your credit card companies spending their own money to treat your friends and family for once! Haha… That's some great Himalayan revenge right there ;)
————-
[Photo credit: PetsAdviser.com]
************
Bonus tip: Find a good "balance transfer" offer to help pay off debt faster!
If you've been making payment after payment (on time) and still haven't been able to get your debt under control, snatching up a good balance transfer credit card offer may be the ticket to try. That's where in order to gain your business - credit card companies will let you transfer your existing debt to a new card and let you pay ZERO PERCENT interest on it. Saving you tons every month!
What's the catch? Usually balance transfer cards charge a fee (around 3% of your debt balance) to let you transfer your balance to their 0% interest offer. But we've found a great credit card that will let you do a balance transfer absolutely free. Click here to learn more and see if you qualify!
PS: If you don't trust yourself with another credit card, ignore this! This strategy is to help you get out of debt quicker, not risk adding more to it.