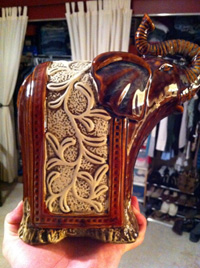 I did something last night that I'm not proud of. After all the talkin' I've done about having cash in your pockets and always being prepared, I was caught with my pants down. And not in a good way.
(Okay, well it wasn't all that bad really – kinda funny actually! – but it's definitely embarrassing coming from a personal finance blogger ;))
I was on a mission to use the last $8 off a remaining gift card we had left, so I snuck back to TJ Maxx last night and picked up this weird elephant looking thing the Mrs had wanted. (She had fallen in love with it over the weekend but I couldn't bear to look at it at the time. After some reconsideration, though, I decided to just man up and force myself to like it ;) So I surprised her with it and now it resides in the bathroom watching over us! Haha…)
The only problem being, I had miscalculated the amount left on the card. Which normally wouldn't have been a big deal, but it turned out I had doubled up on my good deeds for the day (a first!) and had already given away all the cash in my pockets. (Long story short, I met this amazing homeless guy – who happened to know Carlton! – and couldn't bear not helping him out with his current mission: To get a valid ID so he could apply for this job he was really hoping to get.)
So while my guestimation was CLOSE – real close – I still came up short. And do you wanna know how much? You promise not to laugh? Okay… I was off by 10 CENTS!!! TEN freak'in CENTS! As in, THE dime I let stay on the floor only 2 hours earlier because I was too lazy to pick it up! Haha…
So last night I charged $0.10 to my credit card :) It's not the stupidest thing I've ever done, but it sure goes up there in the category of Lame. The sad part here is that it never struck me to just walk out to my car and snag the extra cash I have stored there – something I JUST posted about last week! I guess I was like a deer caught in the headlights. I just froze and did what any good consumer does – hand over my credit card :) Anyone have my 10 cents beat?
************
Bonus tip: Find a good "balance transfer" offer to help pay off debt faster!
If you've been making payment after payment (on time) and still haven't been able to get your debt under control, snatching up a good balance transfer credit card offer may be the ticket to try. That's where in order to gain your business - credit card companies will let you transfer your existing debt to a new card and let you pay ZERO PERCENT interest on it. Saving you tons every month!
What's the catch? Usually balance transfer cards charge a fee (around 3% of your debt balance) to let you transfer your balance to their 0% interest offer. But we've found a great credit card that will let you do a balance transfer absolutely free. Click here to learn more and see if you qualify!
PS: If you don't trust yourself with another credit card, ignore this! This strategy is to help you get out of debt quicker, not risk adding more to it.