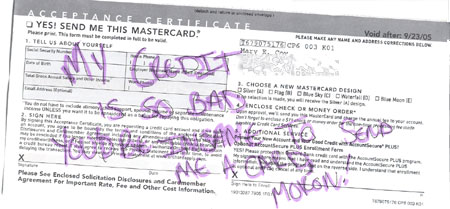 *Guest Post by Credit Karma
When I get married, do we get a joint credit score? If I get a raise at work, will my credit score go up? These are common questions asked everyday by many Americans because credit scores are seemingly arbitrary numbers and credit reports are lengthy and unintelligible. It's often difficult to separate fact from fiction.
To help consumer's better understand how credit works, Ken Lin, CEO of Credit Karma, has put together a list of the top 10 credit score misconceptions. These misconceptions included credit score myths that many people expect to impact their credit score, as well as some factors that actually impact credit scores that aren't common knowledge.
Things You Expect that Don't Happen:
When I get married, we get a joint credit score: Not so. Each person has their own credit score 'til death do you part. However, when you open accounts jointly, that information will be reflected on each of your credit reports, for better or for worse.
My job/income impacts my credit score: Sorry, but making six figures, winning the lottery, or inheriting a fortune will not give you a good credit score. Your net worth and income are not factored into your score.
Paying off credit card debt will boost my credit score 50 points: Depending on how much credit card debt you had, you may see some increase. However, credit card utilization is an important component of your credit score and those with the highest credit scores have about 10% utilization.
Being an authorized user on a credit card will impact my credit score: Co-signing for a credit score can have an effect on your credit score, but unfortunately just being an authorized user won't change your credit score one point.
I only have one credit score: There are several different credit score providers and each credit bureau provides their own credit score. However, these companies all use the same criteria to judge your credit worthiness and the scores basically fall within the same range of each other (good, ok, or poor).
Checking my credit score will lower my credit score: False. When you check your credit score at sites such as Credit Karma, it's a soft pull so it won't lower your credit score at all. Only hard inquiries by lenders impact your credit.
Things You Don't Expect that Do Happen:
If you don't use your credit cards, your credit score won't change: In order to have a good credit score, you must have credit available to you and use it responsibly. If you don't have or use credit, you may have no credit history at all and if you do, your credit score won't be as good as someone who consistently demonstrates responsible use of credit over time.
Credit bureaus don't make mistakes: Nearly eight in 10 credit reports contain a serious error or some sort of mistake, according to a survey by the U.S. Public Interest Research Groups. Because many errors can negatively impact your credit score, it's important to check your credit report regularly and dispute any inaccuracies you find.
If a bill or debt isn't generally reported to the credit bureaus, missing a payment won't affect your credit score: Any time you pay a bill late or don't pay at all, that activity can be reported to the credit bureaus. Different companies have different policies about reporting late payments, but never assume that just because you've never seen a particular bill listed on your credit report that it can't negatively impact your credit score if you don't pay it.
Your credit score only impacts your ability to get credit or a loan: False. Employers, insurance companies and rental or leasing agencies all check this number. Your credit score can prevent you from getting a job or the apartment you want. In addition, people with bad credit scores pay more for insurance premiums than those with good credit scores.
Having a variety of debt impacts your credit score: This one is true. Auto loans, credit cards, mortgages, and student loans all impact your credit score. In fact, the more variety of debt, the more responsible you appear to lenders (so long as you're responsible with this debt).
——————————–
Credit Karma enables consumers to put their credit to work for their overall financial health. Credit Karma's goal is to help its more than 1 million users realize the everyday cost savings of having a good credit score by providing a range of tools and resources to help consumers improve their financial situation.
************
Bonus tip: Find a good "balance transfer" offer to help pay off debt faster!
If you've been making payment after payment (on time) and still haven't been able to get your debt under control, snatching up a good balance transfer credit card offer may be the ticket to try. That's where in order to gain your business - credit card companies will let you transfer your existing debt to a new card and let you pay ZERO PERCENT interest on it. Saving you tons every month!
What's the catch? Usually balance transfer cards charge a fee (around 3% of your debt balance) to let you transfer your balance to their 0% interest offer. But we've found a great credit card that will let you do a balance transfer absolutely free. Click here to learn more and see if you qualify!
PS: If you don't trust yourself with another credit card, ignore this! This strategy is to help you get out of debt quicker, not risk adding more to it.