I've been coming across a few pretty dope contests lately (if you can call them that?), and as a lover of currency and games, I thought it was something you'd might enjoy too :)  Who doesn't like FREE MONEY for doing nothing, right?? (And more *free* than my post about tax reimbursements, haha… that's a different kind of free.)
The first game I came across was from the Opie and Anthony Show that someone here forwarded over to me, and is featured in that video up at the top.  It's been going on for about 3 years now, but to this day I don't believe anyone has found the dollar yet? The concept is pretty simple:  Find the dollar bill he dropped in Times Square, and win $10,000! :) Of course, once it's in circulation who knows *where* it could turn up (or not) again, but still what a chance! We could be holding onto it right now and not even know it! Haha…
In fact, why don't you check to be sure? :)  Here's the serial number:  F48859794A. If you have it, hurry up and claim your prize!  People are getting pretty clever with finding it too, posting up requests for the bill on forums and saying it has "sentimental value" and they'll give you $100 for it, haha… tricky!!!  (If you Google F48859794A you'll see exactly what I'm talking about)
And while you're scouring through all or your bills right now, make sure to check out my friend's site too – MoneyGraffiti.com – and see what "bonuses" he's cooking up as well.  He's recently dumped over 50 bills into circulation and is paying 100 x face value if you find one of them!  So you're looking at $100, $500, and $1,000 prizes there – all for randomly coming across the right bill, pretty cool stuff.
Now the odds?  Pretty slim to none. (Though even more so if Money Graffiti had placed a prize on the exact same bill that Opie did! Haha.. THAT would be something ;))  Not only would you have to magically come across any of these bills, but you'd then have to make sure to be checking EVERY SINGLE ONE that comes into your hands too.  Which is not something easily remembered, unless you *really* make it a point to do so.  And who knows how many bills are just sitting in a bank or someone's drawers or something too – they may never be found!
Over all though I LOVE this $hit. It makes money that much more interesting out there, and really adds a unique spin to things.  Especially the other clever stuff you'll find at Money Graffiti with all the doodles and crazy things people do with money.  Remember those hobo nickels I talked about last year?  It all goes down into my "awesome" category for sure. I'm a nerd for this stuff!
Now get out there and try and win one of these prizes!  And then ask for change from all your friends and family, and keep searching until you come up a winner ;)  I'll even give you added incentive:  For each winning dollar you find, I'll give you an extra $1.00!  Haha… if that doesn't sound sexy, I don't know what does.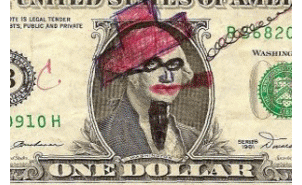 ——————-
PS: I once bought Dollar Dollar Bills Y'all.com in order to show off my own collection of awesome bills I found – kinda like this one. Or better yet, this one ;) But as you can see it still remains unfinished…
(Dope animation by Richard from Money Graffiti)