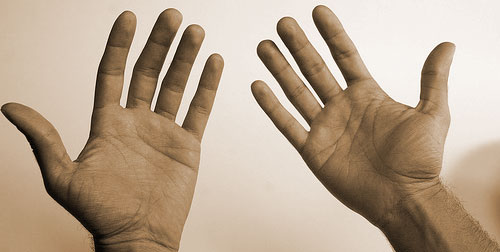 For the last 48 hours, Mrs. BudgetsAreSexy has been dealing with a crazy itchy right palm. At first she thought it was just a bug bite or something and would go away after a couple of minutes, but here we are hours and hours later and it's still driving her nuts.
So she decided to do what all of us do when trying to solve a problem: Self-diagnose on Google ;) And boy were we surprised at our findings! Who knew it had anything to do with money?? D'uh…
Check it out (from Palmistry and Hand Analysis):
There's an old superstition that when your palms itch it means money. An itching left palm means money to be paid out, while an itching right palm is money coming in. To stop the left palm from itching, the superstition says to rub the palm on a piece of wood.

There may be something to this old tale, since itching palms often show new internal energy moving through the hands. The left hand is the passive or receptive, and the right is the active. When the left palm itches, look for new energy or services coming into your life – Of course this will probably cost you some money. The right palm itching means energy or services going out – Work you might get paid for.

Touching or rubbing wood is a very old method for transferring or releasing unwanted energy buildup (thus expressions like "touch wood"), so if your left palm itches, try rubbing it on the corner of a table – If you don't get a splinter, perhaps you'll save some money!
It all makes sense now :) The wife is literally finishing up her first two weeks back in the work force today, and is now due her first paycheck! (Right palm = money coming in!) Which, oddly enough, she'll probably be getting either today or Monday, haha… How's that for superstition?
And now you can say you've finally learned something here :) You're welcome.
————
PS: Here are 12 other money superstitions that may also fit your fancy…
(Photo by nate steiner, tinted by J$)