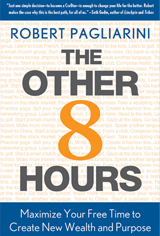 Here's another great book to give away! Congrats to the last 2 winners Teela and Sarah Oneill who won their own copy of Shoo, Jimmy Choo! (Make sure to email me your addresses, young ladies)
The Other 8 Hours: Maximize Your Free Time to Create New Wealth & Purpose
Here's what Amazon says about it: "…A large portion of the book is focused on becoming what the author calls a Cre8tor, someone who does not just settle for a paycheck but creates their own financial life. Even readers perfectly at peace with their career and paycheck will find the tips and a companion Web site, featuring downloadable templates for time management and a Goal Achievement Plan, useful catalysts for further professional and personal growth."
And here's what Daniel Pink says: "Most of us don't make great use of our 'non-work' hours. This book can help you change that. It's filled with great advice on how to devote those in-between hours to more enriching, energizing and rewarding pursuits."
Want it? Drop me a comment with what you WISH you could do in these extra 8 hours every day :)  I will announce the winner this weekend – U.S. Only, sorry.
————–
Read More: The Other 8 Hours: Maximize Your Free Time to Create New Wealth & Purpose
*GIVEAWAY OVER* The winner is…..Edward @ Entry Level Dilemma – Congrats!
Jay loves talking about money, collecting coins, blasting hip-hop, and hanging out with his three beautiful boys. You can check out all of his online projects at jmoney.biz. Thanks for reading the blog!