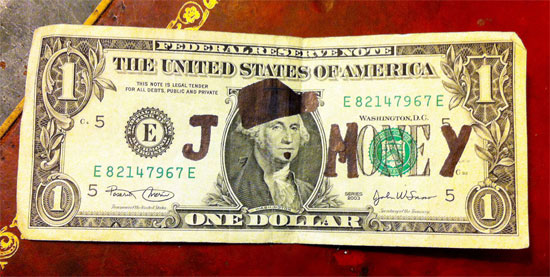 BAM!  Keep that in mind while out rockin' Black Friday, okay?  Don't go spending more than you have on presents and things that will get you more in debt!  Your friends and family will understand – make them something instead ;)  (You know those are always the best gifts anyways, right?)
Oh, and this applies to everything else in life too, haha… No one ever seems to believe this little tip, but honestly you can NEVER go in debt if you do this!! It's one of the simplest things you can do, even though I know it's hard as $hit to apply sometimes. Maybe print this out and put it on our fridge? Or folded up in your wallet?? TRY IT!!! Then in 30 years we can look back and smile about it :)
Either way, it's 100% do-able. You just have to believe, baby!
——
PS: Big ups to Bible Money Matters and Three Thrifty Guys for tweeting this out earlier – you two totally made my day! You're both Christian-based too, so maybe become blog friends? ;)
Jay loves talking about money, collecting coins, blasting hip-hop, and hanging out with his three beautiful boys. You can check out all of his online projects at jmoney.biz. Thanks for reading the blog!