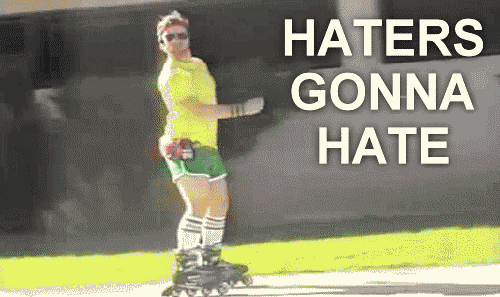 Tell me if you don't know people like this…
I just paid off my debt! (You shouldn't have had any to begin with)
I just invested in my first stock! (You need to diversify more)
I just saved for retirement! (Why? YOLO!)
Budgets are sexy! (No they're not, they're boring)
I just rode my bike to work! (You're gonna get hit by a car one day!)
I just bought a used car! (It's gonna break down, you know)
I  just bought insurance! (You would have been better off saving it)
I just saved $20.00 doing it myself! (My time is worth way more than that)
I just got a raise! (I just got two)
I just paid off my mortgage!! (You're an idiot. If you had invested that money in an 18.19% yield over the past 10.3 years you would have had $128,173 more! And that's without the stock splits!)
I'm about to retire early! (You're not gonna know what to do with yourself)
I just became a billionaire! (You greedy bastard)
I just donated all my billions to charity! (You know they're gonna use it for booze and crack)
Haters gonna hate, but you don't have to.
Keep being your fiscal loving self!

******
 Originally posted in 2015, but the hate is still strong out there… ;)
Jay loves talking about money, collecting coins, blasting hip-hop, and hanging out with his three beautiful boys. You can check out all of his online projects at jmoney.biz. Thanks for reading the blog!