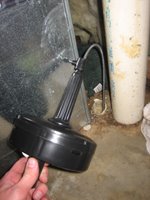 WHEW! Seriously, i will forever have mad respect for plumbers – that job is no joke! I know they get paid (a lot) for it, but my goodness, I am one tired puppy.
But, 4 and 1/2 hours later, we have success :) There's a lot that went into it, most of which is pretty boring, but hey you might be bored, right? At the very least, you can relate to the new expenditures that were thrown into the mix. Of course, this is on top of this morning's $45 visit. *sigh*
I hold my head up high, though, as I officially did a house-related job all by my lonesome! I hope you're reading this Mrs. Budgetsaresexy ;)
Here's a semi-quick rundown of today's adventures:
Used hose on "jet" mode to try and unplug tube in cement –

failed.

Tried two more times – backfired and hit J in the face ;(

failed.

Used hacksaw to cut pipe. Not small enough.

failed.

Went to neighbor's to borrow small saw.

failed.

Went to Home Depot –

Success!

bought skinnier hack saw – $11.97
bought petite coping saw – $6.99
bought thin skinny saw – $9.99
bought duct tape – $2.79
bought 2 flashlights – $6.97
bought 15 ft' plumbing snake – $9.99
bought long skinny plastic thingie – $1.98
TOTAL: Roughly $54.00

Tried out saw #1.

failed.

Tried out saw #2.

barely failed.

Tried out saw #3.

Success!

Used hose on "jet" mode to try and unplug tube in cement – hit J. in the face, again.

failed. again.

Went outside for 8w98405567th time to dig for outside pipe –

SUCCESS!

Clean pipe of pact-in mud, rocks, and dirt –

Success!

Put pizza in oven –

Success!

Snake pipe a total of 13 times to rid of all stagnant water –

Success!

Remember pizza is in oven –

failed.

Take pizza out of oven, and eat pizza –

failed.

Attach cut-off piece of pipe to pipe attached to A/C with pipe connector –

Success!

Take a break and down 2 bottle of water, while sweating profusely over the 2 cats and watching the temperature rise once again to 84 degrees –

Success!

Turn A/C back on and check all piping and dug tunnels…….

SUCCESS!
See what i mean? Plumbers have it hard boy, I'll give them love any day of the week after what i just went through. But after all of that, here we are, 4 and 1/2 hours later….me eating my pizza (finally), and you reading what i have just typed. What a day!
All in all I spent a total of around $99.00, and it was well worth it. A job like this would have run around $125-$200 when I initially called to make an appointment! Ouchy mama that's a lot of money.
We now have a clean piping system, our A/C is back on full blast, my brain is pact full of knowledge, and I can now enjoy the rest of my day off. Oh, by the way – Did i ever mention i bought that cadillac last night? Post coming tomorrow :)
Jay loves talking about money, collecting coins, blasting hip-hop, and hanging out with his three beautiful boys. You can check out all of his online projects at jmoney.biz. Thanks for reading the blog!