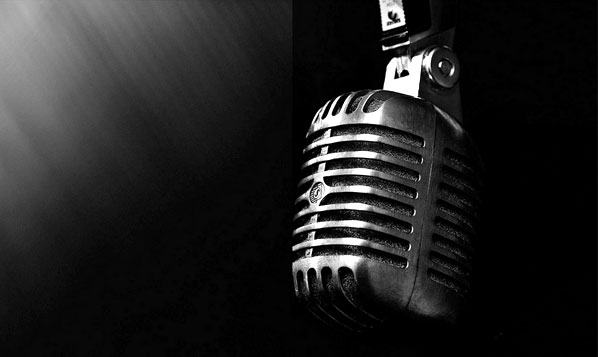 I used to joke that if I could get paid to just talk all day I'd be one happy (and rich) person. Then a friend one day told me there's a thing for that called "consulting," and a few months later I was officially a blogging coach and soon after a money coach ;)
But the REAL opportunity, as I'm just now finding, seems to be with voice over acting. And today my friend Carrie who's killing it with voice acting tells us how she got started, and how you can jump into it as well. Along with all the pros, cons, and most excitingly – how much it pays!
A great way to hit our 60th side hustle, thanks Carrie!
**************
In a matter of four months, I discovered an industry, started a business in it, replaced my day job income, and quit my job to pursue my side hustle full time. All this with a newborn baby in the house. What was my investment to get started in my new occupation? $160. Because basically, I was getting paid to talk.
The industry that I dove into was voice over. I got paid $450 for the first job I ever did. I was instantly profitable. The job was to provide the narration for a two-minute video for a company in Denmark (I recorded it from my apartment in Kansas City). I made $10,000 over the course of three months on the third job I ever got. I continue to book work with this client.
In the rest of this article I'll tell you what voice acting is and some details about the industry, exactly how I got started, and some steps you can take if you're interested in becoming a voice actor.
What is voice acting?
You know those voices you hear on the radio and TV trying to sell you things? Those are done by professional voice actors. Professional voice overs are also used for narrating audiobooks, product/explainer videos, educational and video games, animation, live announcing, jingles and more.
What the Job Entails
Basically standing (or sitting) in a vocal booth (or sound treated closet), and reading out loud. Of course, there is the business side as well that includes invoicing, marketing, etc. But you'll spend most of your time auditioning and reading scripts for commercials, narration, animation, or whatever type of jobs you book.
Pros of Voice Acting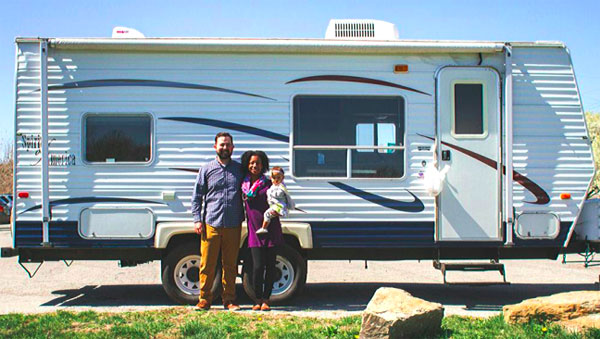 You can do it from anywhere! Well, anywhere with an internet connection that is quiet enough. My family recently went on a cross-country road trip, and I recorded many spots from the bathroom of our travel trailer.
You don't need a degree, but professional training is definitely helpful.
You can make your own hours for the most part.
It's a cool job! It's fun, and people will always be intrigued when you tell them it's what you do.
It is very lucrative. Or it can be anyway. There are lot of voice actors out there working part time or pursuing voiceover as just a hobby, but I just heard a story the other day about a voice actor who had a $20,000 payday for one 60-second TV commercial.
Low barrier to entry. You don't need a bunch of expensive equipment to get started. You do, however, need some good quality equipment to get started, but you don't have to spend a fortune on it.
Cons of Voice Acting
Work is never guaranteed. It's a competitive market, and sometimes you've got to beat out hundreds of other voice actors to get a job.
Training can be expensive. While getting enough equipment and know-how to start auditioning doesn't cost much, a good coach does — and should. But in my experience, it is well worth the investment. If the cost of training is prohibitive, there are many online groups you can join for free that are extremely helpful.
It can be isolating. If you're an introvert like me, this could also go in the pros category. But you can expect to spend the majority of your time alone in your recording space.
Certain types of work are easier to get if you live in LA or New York.
How Much You Can Make Doing Voice Over

This varies from job to job and depends on whether you are a union member or not. You can check out current union rates here. What I've discovered in my short time in the voice over industry is that, outside of union rates, it's subjective when it comes to pay. Many audition sites will allow you to bid your own price for a job. On these sites, a job may get one bid at $20 and another bid from a different voice actor for $1,000. Literally. It's a matter of what you feel you're worth and how much clients are willing to pay for truly professional work.
My best payday to date was $3,000 for 45 minutes of work. I was getting paid $500/spot (whether the spot was 60 seconds or 15) for a cinema ad campaign and did six spots in under an hour. I get some jobs that pay $1,000-$2,000, and I've taken some that pay under $100, although this is rare. At this point in my career, the average job I get pays about $300-$400.
(EDITOR'S NOTE: Money magazine just came out with a list of the highest paying jobs you can do at home, and interestingly enough voice over work clocked in at 2nd place! With an average of $72/hr. So obviously those actors aren't doing it right like Carrie is ;))
How I Got Started
It all started with podcasting. My husband and I are avid podcasters and podcast listeners. We're always on the lookout for a good new show. At the time, I had a 45-60 minute commute to work, so I got lots of listening done.
One day, I randomly picked a new podcast I had never listened to before, the Go For It Show with Tyson Webb. I turned on the latest episode and set off for work. About half way through the episode, a light bulb went off.
The show I happened to be listening to was an interview with a voice actor named Alyson Steel. I was only half paying attention until I heard her answer the question, "What does a typical work day look like for you?" I had a baby that year and had just gone back to work. I was dying to be able to spend more time with my daughter and husband.
This is what Aly's typical work day looks like: She gets up, goes to yoga. Comes back home and checks her email for scripts. Spends some time in her voice over booth recording spots for radio, TV, internet, telephones, etc. Tools around on Facebook for a while, does a little more recording, then calls it a day. Um… AWESOME!
At the end of the episode, she mentioned that she offers private voice acting coaching for $150 for an initial hour consultation. My husband, Derek, is a budgeting fanatic, so I figured he wouldn't be too excited about me asking to spend $150 to learn about a job that I didn't even know if I could do. Fortunately, he told me to go for it.
I booked the session with Aly, a 20-year voice acting veteran, and she spent an hour telling me all about the business. That night, I recorded a (very amateur) voiceover demo on the equipment Derek and I use for podcasting and sent it to Aly. She was beyond encouraging, so I hired her to coach me.
The Ball Started To Roll…
I read everything I could find about the industry and listened to every voice over podcast as well. Meanwhile, I started auditioning for jobs on a site called Voices.com. They had a special where I could sign up for my first month for $9.99. When a client on the site likes your audition, they can give it a thumbs up, or a like. I started getting likes on my auditions almost immediately. And one morning as I was leaving for work, I whispered to Derek who was still in bed, "I got my first job. $450."
And that was that.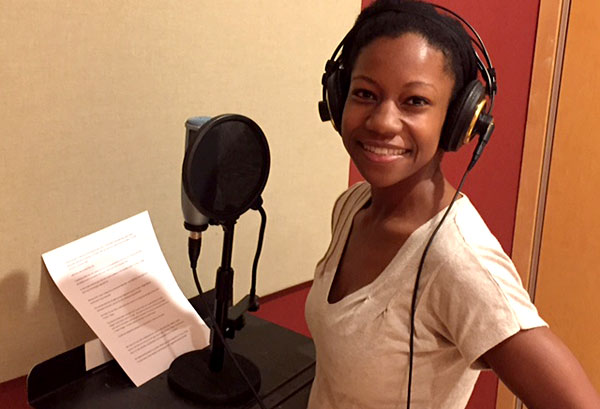 The work hasn't slowed down. I have been consistently booking work and continuing with my voice over coaching sessions with Aly, who is amazing. Without a professional demo, I have made dozens of contacts, gained national representation from some of the nation's most respected talent agencies, voiced television and radio commercials, and built up a hefty clientele for my voice over services.
Voice123.com is another pay-to-play site, similar to Voices.com that I recommend. The main difference between the two is that Voice123.com allows you to communicate with clients outside the site, so you don't have to pay the escrow fees that Voices.com charges (awesome!). However, they don't have a monthly subscription, so you have to pay the full year's fee up front.
UPDATE: Here's a message from Voices.com regarding the brokerage fees: "It is suggested that Talent on Voices.com pay Escrow fees which is actually not the case. Escrow fees are paid for by the Clients on Voices.com who hire the talent (clients pay this on top of talent fees). Talent on the other hand do not pay for anything other than their monthly membership on our site."
Here Are The Steps I Took in Detail
I'm laying out the path I took, even though I realize your path will look way different. If you're less interested in how I did it and would rather just hear about how you can do it, skip down a section.
First, I made the decision to make a real go of it. Since I've been voice acting, I've had dozens of people ask me how to get into the industry. I think the first step is that you have to want it. And you have to want it enough to put in the effort it requires. Of the many who have picked my brain on becoming a voice actor, very few (maybe even just one) actually followed through with the steps I suggested. Voice over work sounds like a ton of fun — and it is — but it is also a business. Voice over jobs don't fall into your lap just because you're sort of interested in trying out VO (voice over). This leads me to the second thing I did.
I hired a voice over coach. There are so many people on the web claiming to be voice over coaches, and you have to be careful that the one you work with isn't just trying to build up your confidence, make you a half-ass demo, take your money and then send you on your way. You only get one chance to make a first impression with potential clients/agents, and your demo needs to be awesome to make sure it's a good first impression. Look for a coach who actually is a voice actor. Someone who knows the industry first-hand and doesn't crank out demos for anyone who will pay their fee. Someone who gives you personalized attention and will be there for the long haul.
Thirdly, I read and listened to everything I could get my hands and ears on about the VO industry. Blogs, books, podcasts, everything. I'm really glad I did this because I ended up booking my first national radio spot in a matter of weeks, and all of the research I did, combined with my sessions with my coach, helped me to feel like I knew what I was doing when I walked into the recording studio for the first time. I lay out some great resources that I devoured in those first weeks and months in a free guide that's available on my website (more info below).
Next, I auditioned. A ton. The first "pay-to-play" site (a site that charges you a fee in order to audition for jobs) I joined was Voices.com. I was still working full time, so I would try to do at least ten auditions when I got home from work, and as many as I could on the weekends (again, with a newborn daughter in the house).
Lastly, I never stopped seeking counsel. Along every step of the way, I consulted with my amazing voice over coach, who was (and still is) over the moon about my success. She has talked me down from the ledge, encouraged me, shared her wisdom, believed in me, and helped me to believe in myself. In a word, she is invaluable.
If you look closely, you'll notice that "buy a microphone" or "learn how to use audio editing software" is nowhere on this list. Fortunately, I just happened to have had a hobby (podcasting) that gave me a head start in those areas.
Want to Be a Voice Actor?
Here are a few steps I recommend you take if you're interested in pursuing a career in voice over. These are the Cliff's notes. If you want to be overwhelmed with information or prefer to try your hand at getting jobs without getting a coach, just skip to step 3. But I wouldn't be where I am today without Alyson, so I highly recommend getting a coach.
Get a voice over coach. I recommend Alyson Steel. She's awesome. It may sound ridiculous to hire someone to teach you how to talk. You've been doing that for years! But I promise there is a lot more to voice over than just talking. A good coach can help catapult your career to the next level much faster than you could on your own. They can also save you from a lot of confusion and disappointment if you're auditioning a lot and just can't figure out why you're not booking any jobs. Be sure to tell her you found her through this Side Hustle series.
Listen to your coach. No really, your coach will be able to tell you what your next steps should be. At some point, you'll need to make a demo and start auditioning and/or marketing your services. Your coach will let you know when you're ready and will make suggestions for getting started. He or she can also help you with acquiring all of the equipment you'll need for your new career.
If you want to go rogue and just get out there and see what happens, I recommend buying a good microphone, reading and listening up as much as you can, and joining Voices.com. You can sign up without a demo, and if you have a good microphone and recording environment, you can start submitting auditions for around $40/month (use the code CARRIEOLSEN349 to get $50 off if you decide to go big and purchase the premium subscription). You can also check out my super detailed, in-depth step-by-step guide to getting started in voice over without a coach, available on my website. It includes microphone recommendations and other helpful resources. But remember, you're much more likely to get the most out of your investment if you hire a reputable professional who is familiar with the industry to guide you.
Listen to commercials. Or audiobooks, or e-learning programs, or whatever it is you want to voice. I used to hate listening to radio commercials in the car. Now, I'll actually change the station when music comes on so that I can study the commercials!
Market yourself. Once you feel your skills are competitive, get a website up and running, make a demo (I have recorded all of my demos from my home studio with direction from my coach), and start reaching out to your ideal clients.
Keep practicing. I absolutely love doing voice over. It's fun, and I get to be creative and even goofy sometimes. But there are people all over the world working hard to perfect their skills, and if I want to stay competitive with them, I have to practice to keep up my chops.
Register for my webinar on how to get started doing voice overs. I give away some of my best secrets on how I fast-tracked my voice over career, as well as some super valuable resources on the webinar, so you won't want to miss it.
I feel so blessed to have found (stumbled upon, really) an industry I love, that pays, and allows me to spend time with my family — from anywhere. And the fact that it happened so fast is just a bonus. I discovered VO in July of 2014. I had my first lesson in August, booked my first job in September and put in my notice at work in November.
Give it a shot if you find it interesting!
– Carrie
PS: I mentioned my voice over guide full of all the steps, websites, equipment and resources I used over the last year. It has links to tons of resources to help you get started. If you're into that kind of thing, I encourage you to check it out.
UPDATE: Carrie's site has changed a bit over the years, so if something no longer makes sense here or links are broken – that's why :) Though I try to pop in every now and then and update changes I find.
********
You can find Carrie's professional voice acting site, along with tips, at CarrieOlsenVO.com.
[Love a fun hustle? Check out all 59 others we've featured here: Side Hustle Series]
Top photo by drestwn
Jay loves talking about money, collecting coins, blasting hip-hop, and hanging out with his three beautiful boys. You can check out all of his online projects at jmoney.biz. Thanks for reading the blog!