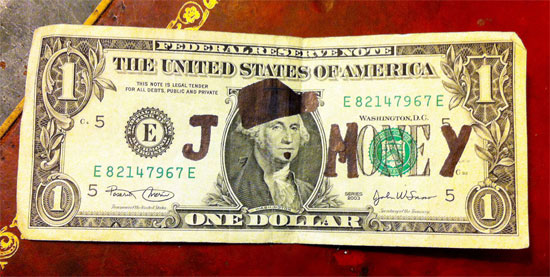 There's not too many things that surprise me anymore with money, but apparently I still haven't came across them all yet. My wife walked into my office this week and proudly exclaimed, "Our daycare rate went down! For doing nothing!"
"Ummm… how is that possible??" I confusingly shot back.

"Baby Money moved up to a new class size w/ fewer teacher-to-child ratio. We're gonna save $15.00 every week – hurray!"
And hurray, indeed! I certainly didn't see that one coming anytime soon EVER. Since when do companies cut you a break on services they damn well know you NEED and aren't ever leaving? That's like your cable company just dropping your rates by $10 out of nowhere. Or your insurance company mailing you a check just for being a member (oh wait – USAA ;))
Needless to say it was a nice surprise to start off the day. And don't get me wrong, I'm not complaining. Just stunned more than anything. That'll save us $60 a month out of the blue for doing nothing in return – gotta love that! And with baby #2 coming right around the corner, we're gonna need all the help we can get… (maybe our daycare's trying to get on our good side? ;))
It got me thinking about *other* things that go down in price without affecting value too. As hard as I thought it would be to come up with some, five good ones hit me right away:
Car insurance. About to hit 25? Your insurance is about to drastically go down! Especially if you're a guy. And the same happens (depending on your carrier) as time goes by w/out any new accidents/claims too. Of course the opposite is true when you do get in them, but it still doesn't negate my point with this post :)
Interest on debts/loans. The amount you pay will almost always be tied to your credit score and history. Start doing better in both departments and your interest rates will go down! Meaning you get to borrow someone else's money the same exact way, only cheaper. If you haven't done so in the past 6 months – credit score rise or not – I'd HIGHLY recommend calling up all the places you have debt with and purely asking for a drop in interest rates. The worst they can do is say no, but you'd be amazed at what the results could yield! I always make sure to ask for a manager too just to make sure my time is efficiently used ;)
Shipping! Buy from one place and pay $4.95 to get it delivered to your door. Do it through Amazon's "Free" shipping (now at $35 vs $25, boooo…) and it'll cost you nothing!
When you move to a place with a lower cost of living. You get the SAME exact gas, bread, milk, whatever – all at a "discounted" rate because of the area you live in. I'll never suggest moving based purely on the numbers, but it can def. play a significant role in the decision making process when it's time to bounce. We now save well over $1,000+/mo compared to our last location (cheaper health insurance, cable, daycare), and haven't looked back.
When you have a baby. Costs go UP when this happens, of course (we've spent almost $20,000 already on ours since day 1!), but your taxes go down :) You get a nice little baby deduction!
I'm sure we could think of a dozen things more too, if we really wanted to… In fact, why not do that right now? Take a sec and rack your brain for other areas in our lives where costs go down for whatever reason. It may not do much to affect your finances right this very moment, but it can very well help motivate you to keep improving, am I right? Right? Right??? ("Watch out for that puddle, it's a doooozy!" – Groundhog's Day)
Think about it for a hot second, and then comment away! Not everything always goes up apparently :)
——–
PS: Along similar lines, you'll also find your co-workers may get paid less or more than you for doing the exact same job too – all depending on how well you negotiated and your experience/level of education/etc. But at least with this you have much more CONTROL over!
[Photo by marc falardeau]
Jay loves talking about money, collecting coins, blasting hip-hop, and hanging out with his three beautiful boys. You can check out all of his online projects at jmoney.biz. Thanks for reading the blog!