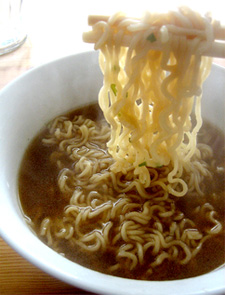 (Guest Post by Ashley, while J$ is in Cali)
Ironically, the poorest time in my life was not when I was making the least amount of money. My poorest time was when I was 23 and working full time in a call center. I was making $10 an hour, which wasn't a lot, but I had lived on less.
I was living in a two bedroom apartment with a roommate and getting along just fine. And then I got pregnant. My boyfriend and I decided to move in together. Which was fine for a while, but he started to get freaked out by the whole of it. Eventually he moved out, leaving me in an apartment I could not afford alone. (This is not a blame game. He came around eventually and has been a very good father to our daughter. I had plenty of responsibility in the situation.)
So I was bringing home about $1,200 a month and rent alone was over $600. Plus all the other bills it takes to live, electric, car insurance, gas, phone, etc.
I had no extra money after I paid the bills. I remember clearly that I had a $20 grocery budget for the month. $20 a MONTH. $5 a week for groceries. And I was pregnant don't forget. I ate Ramen noodles for lunch and pancakes for dinner. On the weekends I'd switch it up, pancakes for lunch and Ramen for dinner. Wohoo… watch out world! To save money I bought butter flavored syrup so I didn't have to buy butter. I didn't even have Mac and Cheese because I couldn't afford milk.
And my belly was growing. I had bought some maternity clothes at the beginning of my pregnancy so I did have some clothes. But as I got bigger I started fitting into less and less. In the last trimester I had one pair of shorts that fit me. I couldn't afford to go to the Laundromat so I washed them every night in the tub and then hung them up to dry.
That June, the AC in my car broke. I live in Phoenix. It would be about 110 degrees when I left work in the afternoon. I had a black car with black interior. Steamy! Driving in rush hour traffic with the windows down felt like sitting in an oven with blow dryers blowing in my face. By the time I got home I was absolutely drenched in sweat. I would take a shower, wash my clothes in the tub, and make myself some pancakes. Life was awesome let me tell you!
But of all that, the time I felt absolutely the worst was when everyone at work each chipped in .50 for donuts. I couldn't spare .50 so I didn't chip in. Then everyone around me ate their donuts. It was awful! I wanted a donut so fricken bad. I hadn't had anything good to eat in weeks and they sat all around me with their fried sugar heaven. I died.
Looking back, I could have taken a donut. I'm sure no one would have cared. But I hadn't chipped in so I didn't. Looking back there were lots of things I could have done. For one, I could have told people I was struggling. I told no one. If I had told people I didn't have money for food they might have given me some suggestions. I really didn't know about couponing, or food banks, WIC, or anything like that. I could have expanded my diet if I had had more information. I probably did long term damage to myself by not eating properly during pregnancy. My daughter, thankfully, was born healthy, but what did my body sacrifice to make that happen?
Also, I could have moved. It was a large apartment complex. I'm sure I could have transferred my lease into a one bedroom, or even a studio. For some reason I was stuck on the idea that I had to have a two bedroom apartment since I was going to have a kid. But looking back, that was dumb. The money I would have saved on rent and electric would have been a huge relief to me.
I was also over paying for car insurance. The car was paid off yet I was carrying full coverage. Which I'm not against if the situation is right for you, but clearly, the situation was not right for me. Why was I carrying extra insurance when I couldn't even feed myself?
Want to hear the weirdest part? I had money in the bank. Quite a bit of money actually. Over $10,000. But I didn't touch it because that was for an emergency. Apparently I didn't consider starvation and heat stroke an emergency. Maybe just knowing that money was there was enough to make me feel less desperate. Maybe that's why I didn't ask for help?
Strangely, once my daughter was born things started looking up. For one I stopped being stubborn about asking for help. I got a roommate which cut my bills in half and I started getting child support. I also used some public assistance programs for about a year while I went to school and got on my feet.
I guess there are some lessons to be learned from my story. I think the thing I learned the most was how little I can get by on. I also learned that you always have options. It's pretty rare to be stuck in a situation where you truly have no options. And nothing lasts forever. It was a tough time, for sure. But it came to an end eventually.
EDITOR'S NOTE: When was the poorest time of YOUR life? How did you overcome it?

————–
Guest Post by Ashley, who puts her life long passion for personal finance into words over at Money Talks. She spends her days trying to inspire you to make the most of your money. You can subscribe to her feed or follow her on twitter.
(Photo by VirtualErn)
Jay loves talking about money, collecting coins, blasting hip-hop, and hanging out with his three beautiful boys. You can check out all of his online projects at jmoney.biz. Thanks for reading the blog!