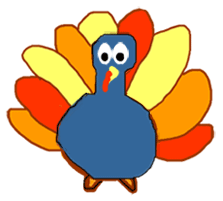 I had this dream last night that the world was run by gargantuan turkeys, and they were all out to eat us!!
Which means 2 things right about now:
1)  I have to stop eating Fruity Pebbles at all hours of the night for dinner.
and 2) It's THANKSGIVING!!!!! Rejoice!
We all have so much to be thankful for today, and I just want to say how much I've appreciated each and every one of you reading Budgets Are Sexy over the years :)  It's almost been 3 now, and I can't tell you enough how much that means to me!  THANK YOU all from the bottom of my heart, you make my life much more exciting. Now get out there and enjoy some time with your family! Just be sure to stay clear of those giant turkeys… they may taste good, but they're a crafty bunch…
Jay loves talking about money, collecting coins, blasting hip-hop, and hanging out with his three beautiful boys. You can check out all of his online projects at jmoney.biz. Thanks for reading the blog!