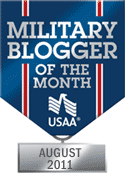 It's Friday, yo!  Get sexy!  And can't remember if I've told y'all or not, but guess who's USAA's Military Blogger of The Month??  It's me, it's me!
Haha… The month is almost over, and they'll soon swap out the next lucky winner, but it felt great while it lasted :)  Nothing like your favorite company in the whole world giving you a fist bump.
Happy Friday!
Jay loves talking about money, collecting coins, blasting hip-hop, and hanging out with his three beautiful boys. You can check out all of his online projects at jmoney.biz. Thanks for reading the blog!