It's nice to see you here :) Stay tuned for some awesome emails every now and then as I come across some pretty cool stuff (and/or I'm feeling lonely, haha… j/k. Kinda.) I hope you get something out of these! Even if it's free money or deals ;) Feel free to email me anytime too.
Now do me the honor and accept this "Sexy Savers" certificate. Download it, put it on your wall, your fridge, your car window – wherever you'd like. You are a rock star, and we need to tell the world: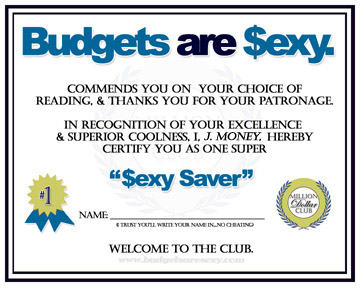 [Click to enlarge – Save to desktop – Print!]
Congrats on working towards financial freedom!


————-
PS: If you got here by accident, you can sign up to our V.I.P. Club here.
Jay loves talking about money, collecting coins, blasting hip-hop, and hanging out with his three beautiful boys. You can check out all of his online projects at jmoney.biz. Thanks for reading the blog!