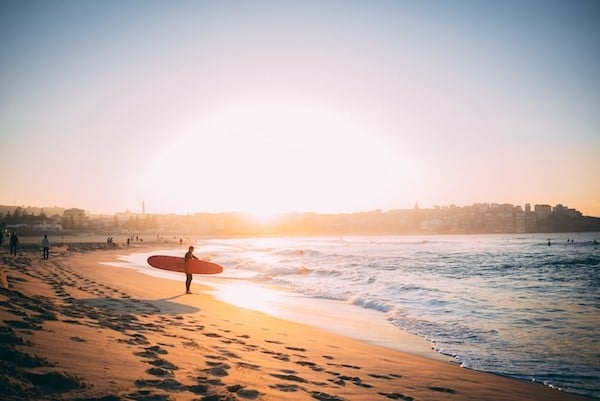 Good morning, all! Nice to meet you, I'm Joel. I'm the new guy.
Hang on a sec, where is J. Money?

As J announced earlier this week, he's slowly stepping away from blogging here. He'll be passing the reins over to me starting in June. 😬
Good news though, J's not going too far!… He just extended his contract with Soapbox (the peeps who own this blog) and they have some "Rockstar-sized" projects in the works. More info on that soon – you're gonna LOVE it! :)
Passing the torch:
Before I share my story, I want to take a quick moment to recognize J and all he's done for the community. (And will continue to do!)
J. Money is a true personal finance legend. He's an inspiration to thousands of bloggers and millions of investors. J is kind, encouraging, and one of the most authentic people I know. Blogging on this site for over a decade, he's never said a bad word about anybody.
In 2008, J set out to make a million dollars. But he ended up making a million friends. He learned and shared a million lessons. He gave away a million prizes, helped make and raise millions for others, and coached millions of beginners.
We owe him a million thank you's.
Just last month, J and I were joking around and he said, "maybe I should just give away all my money to my readers as a big prize and then start this journey all over again from zero"… He was obviously joking, but this is the kind of thought that J's wacky and generous brain comes up with. This is how much LOVE he has for all you guys and how much he wants to help others in life.
What a guy! Seriously, he's irreplaceable. 
OK, enough with the emotional stuff. Let's talk about the future of Budgets!
The show must go on.
My name is Joel and I'll be the new guy behind the blog going forward. While I'm certainly very excited to be blogging here, I'm also pretty nervous… I've never done anything like this before. But, that's the EXACT reason why I agreed to do it. Life has taught me that tackling big and scary things will lead to some pretty amazing places.
Taking over this blog is a huge responsibility for me, and it's more public than I ever thought I'd be in life. I was serious when I said that J$ is irreplaceable… I cannot write or run the blog exactly the way he did. Nobody can. But, what I can do is bring a fun new perspective and voice to this site. I promise I'll try my hardest for you guys, and prove my dedication. Give it time, I'll grow on you :)
I'm sure you have a ton of questions about who I am and my background… I'll start off with some main Q&A's below. If there's anything I miss – just ask – and I'll be sharing more stories over time.
Age, Location, Family, Background info… WHO ARE YOU!?
I'm 35 years old and live in California. I'm married to my best friend (wife and me in the pic below) and we have a hyperactive German shepherd dog named Cooper. No kids (yet?), we are like one of those annoying happy couples that don't know how to grow up. Quick story of how I met my wife here.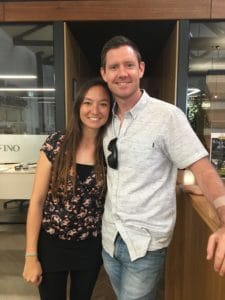 I was born and raised in Australia, and moved to the US when I was 22. This means I have a hybrid Aussie/US accent that's sometimes hard for people to understand. If you want to hear what I sound like, I was recently on the How To Money Podcast, Episode 154!
My work career has mostly been in sales. While very lucrative and interesting, I'm not sure if it's the line of work I want to be in forever. So, in early 2018 I left my last sales job to take a sabbatical and explore other options. I'm now freelancing, traveling, volunteering, and blogging! As for personal hobbies, I love surfing, brewing beer, and riding my motorbike.
Are you gonna share monthly Net Worth reports?
Similar to what J$ mentioned in his last net worth update, I have loved ones and investment partners that would prefer me not track my net worth online. Currently, my investment portfolio is about ~50% real estate (I'm part owner in 9 x rental props and private partnerships), and it's difficult to regularly and accurately calculate my net worth. Even if I was to make full net worth updates they would be long, complex, and probably not relevant to 90% of readers.
That being said, I think it's only fair to be transparent with stories and numbers when writing about personal finance. This Budgets blog was built on a foundation of transparency, and I will abide by that. So I'll try to share as much as possible about my projects, numbers and examples based on my personal assets in posts going forward.
Where are you on your path to Financial Independence?
My current situation is best described as "Coast FIRE". Basically, my wife and I have accumulated enough assets that, if left alone, will continue to grow and get us to financial independence within probably 5-7 years. As long as we don't withdraw from our portfolio, reaching FI is inevitable.
Currently, our savings rate is 0%. We are making just enough personal income to cover our annual expenses. While I'd love to be socking away more money into investments, I'm intentionally slowing down my path to FI. I'm far more concerned with answering the "What the heck do I want to do with the rest of my life?" question, rather than the "How quickly can I retire?" question. Does this make sense? More to come on this!
What's with the "5AM" Joel?
About 4 years ago I started getting up every morning at 5am. It started as one of those 30 day challenges, but after the challenge was over I just never stopped. I got addicted. I started noticing major improvements in my work, health, relationships and happiness in life. While getting out of bed at 5am kind of sucks each morning, I continue to do it because the pros outweigh the cons.
I run a small personal website/blog where I send out a *short* daily message at 5am each morning. I write about happiness, positivity and learning to be a better human. Been doing this for over 1000 days now! You can check out all the archives here if interested: 5AM Joel Daily Emails
What are your goals for blogging here?
For me, this site has always been about the community. Sharing cool ideas, sharing lessons learned, and making money a FUN topic to talk about! So we'll still continue the raffles, giveaways, community and guest posts, etc. on this site.
I'm not big on how-to guides or step by step instructions on how to live life. I believe everyone's path to financial independence is slightly different, and I'm excited to share more about mine. And learn about yours!
Alright, that's it for now. Ask me anything in the comments. You'll hear again from J next week.
Have a wicked weekend!
– Joel
*******
[Photo by Alex King]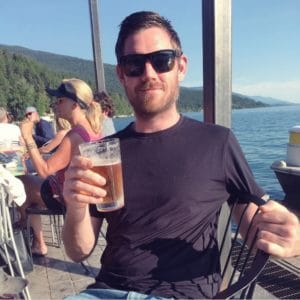 Joel is a 35 y/o Aussie living in Los Angeles and the guy behind 5amjoel.com. He loves waking up early, finding ways to be more efficient with time and money, and sharing what he learns with others. Rise Early | Retire Early!