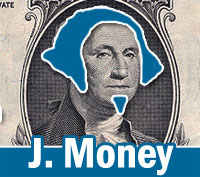 Let's see here, what can I tell you about myself… Well, I'm 6'1, hyperactive, rock a 'hawk, like drinking beer, blaring hip-hop, playing with my new baby, and am now in my early 30′s – unlike when I started this blog 5 years ago in my 20′s! Oh, and I'm a sucker for old American coins.
You can also check out my other projects here: JMoney.biz
While I *thought* I was The Man when it came to money, I really didn't get my act together until we bought our first home for over $350,000. On a whim. And when we were looking to rent (what the hell's wrong with us?? Haha…). Needless to say it was a much needed wake-up call ;)
Soooooooo, I tracked my expenses for 3 months, made a budget, read some books (The Millionaire Next Door, & I Will Teach You To Be Rich being my faves), and it's been smooth sailing ever since! Throughout the whole process I accidentally came across the PF blogosphere and have been hooked on this stuff ever since. In a weird way it's completely changed our lives, like how I'm now a full-time blogger and do this for a living! Wild stuff…
(Here's a list of all the jobs I've ever done btw. So far this one beats out the rest!)
Now will this blog sound kooky at times? Sure thing. Will you wonder why I use the words "Super" and "Sexy" a lot? You bet. Ultimately though, my goal is to spread some good ideas around town and spark some motivation. I don't know about you, but I get CRAZY bored reading about finances by old white men in blah styles, so I do my best to spice things up and keep things entertaining around here. We all have A.D.D., so it's important you're having fun on the site!
You can find my Top 10 favorite posts up there in the right hand column, along w/ a mess of other topics I tend to write about every day, M-F. When you're passionate about it, it keeps ya going . And if you like what you see here, feel free to holler anytime – I love getting comments :) My email: j (at) budgetsaresexy (dot) com (or fill out my nifty contact form.) I'll hit ya back as soon as I can.
Thanks for stopping by! Long live the greenbacks!


PS: Want even more awesomeness? Check out J's other site: RockstarFinance.com.
PPS: Don't hate me when I spell things wrong. They don't teach us right in blogger school ;)


[click to see all media mentions]
——–
Here are some more links about yours truly:
- 25 Random things about J. Money
- Interview: Studenomics on J. Money
- Interview: Me on Me