My Net Worth [Over 8 Years]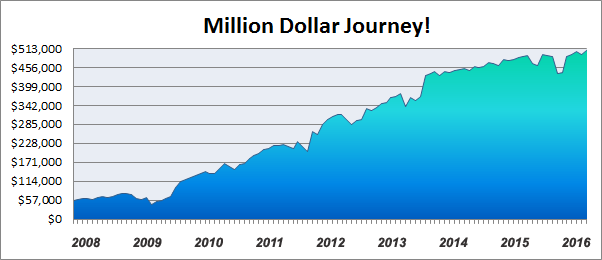 Here's every single month of tracking my net worth, going back over 5 6 7 years to the very first one I did in February, 2008. Complete with links to all blog posts where I broke down the month in detail – daddy don't play around! ;)
If you're asking yourself why someone might do such a thing, here are three reasons for you:
It holds myself accountable (numbers don't lie!)
It keeps myself motivated towards the dream of a Milly (click to see how I'll reach it)
It reminds myself that it's all a journey. Which is important for someone with A.D.H.D.
I highly encourage you to do the same if you haven't started already (if you're a regular reader of this blog you better be! ;)) There are a billion ways to track it, but I prefer using a plain ol' Excel spreadsheet that I manually update at the end of every month. This forces me to stop and soak things in before moving on to the next shiny thing.
Here's the exact template I use – complete with budget built in and all: J's Financial Snapshot. If you're not a spreadsheet guy and prefer something more automated (which is fine, whatever gets you to take action), you can try your hand with any of these places too:
There's a ton of different ways to calculate your "net worth," but technically speaking it's:
All your Assets (savings, investments, property, etc) minus all your Liabilities (credit card debt, student loans, mortgages, etc) – that's it.
Whatever number that equates to is your net worth. If you're not sure what you should include and what you shouldn't, just start tracking the parts that are important to you and you can tweak it over time. You can also check out this list of Blogger Net Worths I put together on my other site too, which will give you a good idea of how others calculate it (and even more juicier – what *their* net worths are ;)).
But again – this number is for YOU. Nobody cares as much about our money as you do, so always make that #1 priority. Include whatever makes the most sense to you!
Okay. Enough jabbering… Here is my complete list of all net worths I've tracked going back to February of '08. The good, the bad, and even the most ugly months ;) But we "started from the bottom now we here!" – Drake.
Hope this inspires you in some small way…
2016 Net Worth:
2015 Net Worth:
2014 Net Worth:
2013 Net Worth:
2012 Net Worth:
2011 Net Worth:
2010 Net Worth:
2009 Net Worth:
2008 Net Worth:
How's your journey coming along? You tracking YOUR money too, right?
Again, the point of this isn't to brag or show off numbers, but to hold our selves accountable and to continue REACHING for our next higher goal. And the only way to do that is to know where you stand at all times! So please please PLEASE start tracking where all your money's at. You don't have to share it with the world like us crazy bloggers, but do keep it somewhere so you can access it (and update it!) with each passing month.
Good luck! :)
—–
PS: After spending some time soaking all this in, I realized a majority of the success here came from only focusing on one main thing: Retirement accounts. Yeah I hustled my ass off and got lucky here and there too, but the bulk of this success was maxing out both my Roth and my 401k/SEP every single year. You invest $20,000 a year and your wealth will explode too! Even if you never did anything else.