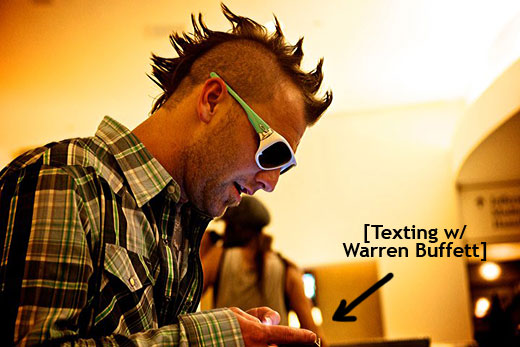 Let's see here, what can I tell you about myself… Well, I'm 6'1, hyperactive, rock a 'hawk as you can well see, love drinking beer, blaring hip-hop, talking about money, and now playing with my two adorable baby boys (awwwww). I'm also the founder of RockstarFinance.com.
While I *thought* I was The Man when it came to money, I really didn't get my act together until we bought our first home in 2007 for over $350,000. On a whim, and when we were looking to rent (what the hell was wrong with us??). Needless to say it was a much needed wake-up call.
Soooooooo, I tracked my expenses for 3 months, made a budget, read some books (here's a list of my faves, as well as other killer resources), became an "adult," and quickly realized the following calculation was more than accurate:
Budgets = Confidence = Sexy
It's been smooth sailing ever since! I've continually tracked my net worth, paying attention to my money day in and day out, stumbled across the great world of personal finance blogging and idea sharing (this blog got started in Feb of 2008), randomly turned this into my full time "real job" a few short years later, and now here we are today – 14 million views later! It's been an incredible ride to say the least.
My goal with this blog is to get people to stop and *pay attention* to their money. Especially you youngin's. You won't find any long in-depth instruction manuals or anything else that bores me to death here, as I really want this to be a fun place to share and interact with eachother. I think this comment from a random passer-by sums it up perfectly, "he's the Miley Cyrus of finance," haha… I'm pretty sure it wasn't a compliment, but I'm taking it as one anyways ;)
If you like what you see here, feel free to holler anytime – I love getting messages!


PS: You can check out all my other online projects here: JMoney.biz
PPS: And a bunch of media mentions over the years here: